As a service to Money Morning readers interested in the pharma sector, we ranked the top pharmaceutical penny stocks of August 2017 so far. But for investors looking for a stock with future growth potential instead of past returns, we'll also show you one of the best small-cap pharmaceutical stocks to buy for a potential 100.9% gain in one year...
| | | |
| --- | --- | --- |
| Pharmaceutical Penny Stock | Current Share Price | August 2017 Return (as of Aug. 22) |
| Tyme Technologies Inc. (Nasdaq: TYME) | $6.50 | +49.2% |
| Marinus Pharmaceuticals Inc. (Nasdaq: MRNS) | $2.75 | +47.1% |
| Chiasma Inc. (Nasdaq: CHMA) | $1.90 | +35.7% |
| Oncomed Pharmaceuticals Inc. (Nasdaq: OMED) | $4.27 | +31.8% |
| AVEO Pharmaceuticals Inc. (Nasdaq: AVEO) | $3.34 | +31% |
| BioLife Solutions Inc. (Nasdaq: BLFS) | $4.48 | +29.9% |
| PDL BioPharma Inc. (Nasdaq: PDLI) | $2.80 | +23.3% |
| Vascular Biogenics Ltd. (Nasdaq: VBLT) | $5.00 | +19% |
| Ophthotech Corp. (Nasdaq: OPHT) | $2.79 | +16.3% |
| Achillion Pharmaceuticals Inc. (Nasdaq: ACHN) | $4.65 | +13.4% |
Special Report: Cannabis Is the Gold Rush of the 21st Century - 30 Stocks to Invest in Now. Details here...
All of the pharmaceutical penny stocks above have outperformed the broader pharma market, showing how profitable penny stocks can be in a short period of time...
The NYSE Arca Pharmaceutical Index - which tracks heavyweights like Allergan Plc. (NYSE: AGN), Eli Lilly and Co. (NYSE: LLY), and Johnson & Johnson (NYSE: JNJ) - is down 3% in August. Meanwhile, the company with the smallest gain on the list - Achillion Pharmaceuticals Inc. - has climbed 13.4%, from $4.10 at the close of July 31 to $4.65 today (Tuesday, Aug. 22).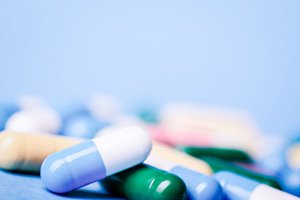 Sign up for SMS so you never miss special events, exclusive offers, and weekly bonus trades.
Despite the attractiveness of these penny stock gainers, we don't recommend buying any of them right now. The triple- and quadruple-digit rallies of those 10 pharma companies might mean their share prices have already peaked. This means they likely won't offer much more in returns for people who buy shares today.
Instead, our Money Morning experts are more interested in selecting stocks that are set for a stable, long-term rally. That's why Money Morning Executive Editor Bill Patalon is giving you one of the best small-cap stocks to own in the pharmaceutical sector right now.
You see, Bill is a finance and stock market expert with over 10 years of experience picking winning investments for Money Morning readers. One of his stock picks has handed investors a 479.3% return since he first recommended it on April 9, 2012.
While shares of Bill's pick today are slightly more expensive than your typical penny stock, they still trade for just under $9 a share. That means the stock is still affordable, and you could more than double your money in the next 12 months by owning it.
According to Thomson Reuters analysts surveyed by Yahoo Finance, this small-cap stock could soar as much as 100.9% over the next year.
One reason for that growth potential is its latest FDA-approved drug, which just hit the market on July 31...
This Pharmaceutical Small-Cap Stock Could Surge 100.9% by August 2018