It's too early to invest in SpaceX stock since the company hasn't gone public yet, but it's not too early to profit from the hype around the SpaceX IPO…
And according to CEO Elon Musk, we could see a SpaceX IPO in just a matter of years.
During a Tesla Inc. (Nasdaq: TSLA) shareholder conference in 2015, Musk – who heads both Tesla and SpaceX – said he won't take the latter public "until flights to Mars begin." Back in May, NASA Director of Planetary Science Jim Green said SpaceX could launch passengers in a Dragon lander to Mars by 2020 at the earliest. In other words, we could see a SpaceX IPO as early as 2020.
But according to Money Morning Director of Technology & Venture Capital Research Michael A. Robinson, there's an investment available that you can buy to make money from the excitement around IPOs like SpaceX's eventual one. Unlike SpaceX, however, you can buy this right now.
The reason SpaceX stock is generating so much attention in the IPO sector is the company's huge valuation. And the hype around its valuation could send Michael's pick even higher as the SpaceX IPO nears…
This Is Where SpaceX Ranks Against Other Private Tech Valuations
If you look at this chart, you'll see that SpaceX's new $21.2 billion valuation makes the company the fourth-highest-valued tech company in the world…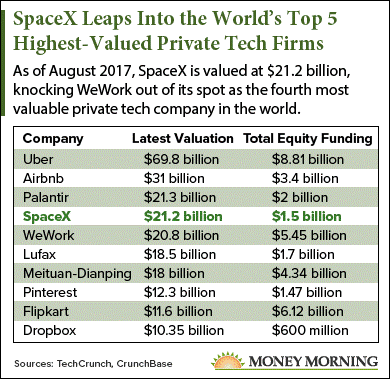 According to tech website The Verge, SpaceX received $350 million in funding from undisclosed investors during its most recent Series H round – the firm's first series round since January 2015. This pushed the SpaceX valuation from $12 billion up to a whopping $21.2 billion.
That jump in valuation was enough to push WeWork out of the No. 4 spot on the list. Now, with a valuation of $21.2 billion, SpaceX is just $100 million – or 0.5% – shy of the $21.3 billion value of software company Palantir.
While SpaceX is currently valued at $21.2 billion, we don't know how much investors will value SpaceX stock at until after the IPO. After all, one of SpaceX's most important initiatives – the reusable rocket program – could affect how investors perceive the company leading up to its stock market debut.
This Is Creating Billionaires: This technology is projected to grow 63,000% and create $7 trillion in new wealth. Will you be able to capitalize on these windfall profits? Read more…
After launching and landing a rocket with a reused booster (engine) for the first time ever on March 30, Elon Musk has been committed to doing this in perpetuity. That's because being able to develop reusable boosters will reduce the cost of space travel "by as much as a factor of a hundred," according to Musk's statements.
This will dramatically impact the value of SpaceX stock, because it will also impact the firm's profitability. Recent data from The Wall Street Journal shows SpaceX lost $250 million in 2015. Though the company hasn't revealed the total production cost of its signature Falcon 9 rocket, the booster itself reportedly makes up 70% of that total cost.
In other words, saving money by reusing boosters will help SpaceX save money. This will inevitably bring the firm closer to profitability – a key factor both analysts and investors use to evaluate a stock's value.
But you don't need to wait for SpaceX stock to start trading to profit from IPOs. That's the best part of Michael's investment recommendation today – it will let you make money both now and when the SpaceX IPO happens after 2020.
The biggest reason Michael likes this investment is because it doesn't expose you to the volatility of individual IPOs. When a stock first starts trading, the share price can be volatile during the first three months, as the market is still trying to determine the stock's value after the IPO frenzy.
For instance, Facebook Inc. (Nasdaq: FB) declined 44% from its IPO date on May 18, 2012, to Aug. 17, 2012. But now, it's one of the FANG stocks, meaning investors have come to value Facebook as one of the most dominant tech companies in the United States. That's why shares have recovered 786.9%, or to $168.96, from the Aug. 17, 2012, closing price of $19.05.
Snap Inc. (NYSE: SNAP) is also experiencing huge losses since its March 2 IPO. Shares climbed 59.3% to $27.09 during its first two days on the market. They've since plunged 44.6% to $15 – below the offer price of $17.
These two stocks show how IPOs can lead to unpredictable price swings and how easily investors can lose money by picking the wrong time to buy.
Instead, Michael's recommendation gives you exposure to a basket of both exciting new stocks and well-established public companies. In other words, you reap the benefits of IPO investing without risking your money by investing in individual IPOs.
Here's the best way to profit from new stocks – including SpaceX's eventual market debut – without the risk of volatility…
How to Safely Make Money Once SpaceX Stock Hits the Market