To call Venezuela "troubled" is a huge understatement. The oil-rich South American country is beset, really, by shortages of all kinds: spiraling inflation, a government that appears to grow more despotic and dysfunctional by the day, and of course, the raging civil unrest that comes along with these problems.
Tellingly - and critically - the Venezuelan bolivar fuerte has been devalued three times against the U.S. dollar over the past eight years alone, from Bs2.15 to $1, all the way down to Bs10 to $1. This massive capital destruction binge was an attempt by late Venezuelan President Hugo Chavez to compensate for falling oil revenue.
Now, this is not to depress you or bring you up to speed on recent Venezuelan history.
Rather, this is a warning; one that Americans - especially American retirees - should pay close attention to... and we also have a stock recommendation that could see you off safe and sound while weak dollar policies wreak havoc with Americans' wealth.
How Weak Monetary Policy Can Wreck Society
Riots, shortages, and a collapsing economy have put Venezuela in a tailspin, to be sure, and President Nicolás Maduro's dissolution of the country's National Assembly, which voided the opposition and gave him almost complete free rein, hasn't even done Maduro much good.
But of all the forces rocking the OPEC member, perhaps none are as destructive and pernicious as inflation.
It's rampant.
The International Monetary Fund (IMF) is forecasting a rise of 1,660% this year, and as much as 2,880% in 2018. March data from the nation's central bank showed the government's cash position is at a critical low, with $7.2 billion in debt and just $10.5 billion in foreign reserves. In early August, the bolivar hit an all-time low, plunging 32% in just a few hours.
The scary part is that, across the next few years, this story is likely to become familiar to many more people around the world.
At 300 billion barrels, Venezuela's proven oil reserves are recognized as the world's largest, even surpassing Saudi Arabia's 266 billion barrels. However, that hasn't been enough to save the emerging economy.
Granted, oil prices are way down from their record highs, but the state-owned oil company, Petróleos de Venezuela SA (PDVSA), has been hard-pressed to reinvest in any of its assets. Output has dwindled, and profits along with it.
Former President Chavez made a national pageant of repatriating the country's central bank gold reserves, dissing dollars in the process. Then, in 2013, Venezuela's central bank borrowed $1.6 billion from Goldman Sachs for seven years at 8% interest, posting $1.8 billion in gold as collateral held at the Bank of England.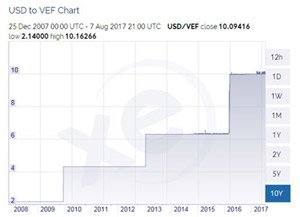 Back in May, Goldman Sachs bought $2.8 billion worth of PDVSA bonds at a near 70% discount from face value, hoping to collect 19% interest in the meantime. By late June, Goldman cashed out $300 million of those bonds, selling to a small hedge fund consortium.
Meanwhile, for the average Venezuelan, managing daily life has become increasingly unbearable, as it generally will when the money you left the house with at 8:00 a.m. is worth 70% as much by 2:00 p.m.
Government policies, like price controls and withholding U.S. dollars from importers, have led to and exacerbated widespread problems and hardship.
Now, here's where things start getting uncomfortably close to home...
The Parallels Are Very Scary
Join the conversation. Click here to jump to comments…
About the Author
Peter Krauth is the Resource Specialist for Money Map Press and has contributed some of the most popular and highly regarded investing articles on Money Morning. Peter is headquartered in resource-rich Canada, but he travels around the world to dig up the very best profit opportunity, whether it's in gold, silver, oil, coal, or even potash.