(Kitco News) – World stock markets were mostly firmer in quieter trading Thursday. U.S. stock indexes are also pointed toward modestly higher openings when the New York day session begins.
Gold prices are weaker, amid bearish "outside markets" today-firmer stock markets and U.S. dollar index, and weaker crude oil prices.
Stock, currency and financial markets have been quieter this week, ahead of the highly anticipated annual world central bankers meeting in Jackson Hole, Wyoming, that begins today. Featured speakers at the three-day event include Federal Reserve Chair Janet Yellen and European Central Bank President Mario Draghi. Traders and investors will closely examine the Jackson Hole speeches for any clues on future monetary policy moves by the world's major central banks. There are ideas the central bankers will mention very low inflation, which could be extrapolated to mean keeping very accommodative monetary policies in place longer. Draghi's remarks are likely to impact the Euro currency, especially after the ECB has recently expressed a bit of concern about the appreciation of the Euro. In recent years the Jackson Hole central bankers confab has significantly moved the markets.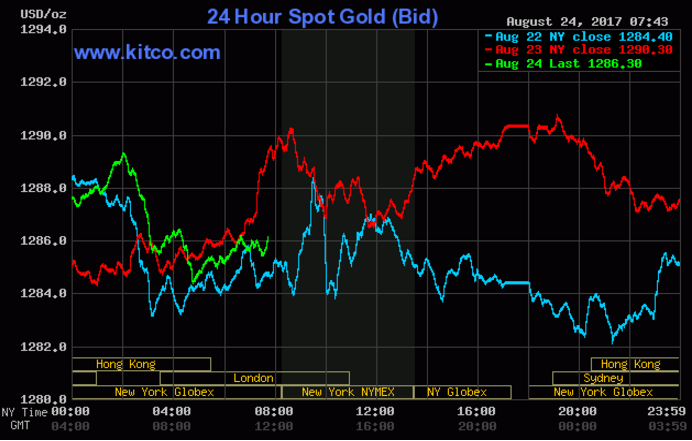 The key "outside markets" early Thursday see the U.S. dollar index firmer. The greenback has been trading choppy and sideways at lower levels during the month of August. Meantime, Nymex crude oil futures are weaker. Trading in oil has also been choppy recently.
U.S. economic data due for release Thursday includes the weekly jobless claims report, existing home sales, and the Kansas City Fed manufacturing survey.
By Jim Wyckoff, contributing to Kitco News; jwyckoff@kitco.com
Follow Jim Wyckoff @jimwyckoff for breaking news.