Ripple prices are sinking 21% today (Aug. 25, 2017) as of 9:00 a.m. because of a major announcement yesterday…
In an Aug. 24 tweet, Ripple announced it will hold a conference from Oct. 16-18 in Toronto called "Swell: The Future Is Here."
And this was not the news some Ripple investors were hoping for…
Ripple Prices Today Drop 21% as News Disappoints
There have been rumors on cryptocurrency forums that Ripple is partnering with e-commerce giant Alibaba Group Holding Ltd. (NYSE: BABA).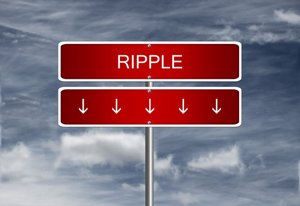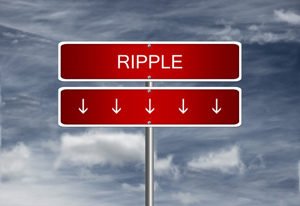 Ripple denied those rumors, but Ripple's director of joint venture partnership Emi Yoshikawa told CoinDesk in an Aug. 15 report that his company wants to set up operations in China.
He said that Ripple is looking to build a presence in China because it's a key market for a global payments network.
Look for the X: This mysterious "X" pattern predicts which stocks are going up – with 100% certainty. Some have gained as much as 225% in 15 days and 264% in less than a month. Learn more…
Still, that didn't stop investors from speculating the Aug. 24 announcement relates to a major deal in China. Between Aug. 15 and Aug. 24, Ripple prices surged 56.25% from $0.16 to $0.25. But right after the announcement, Ripple prices fell. Just look at how drastic the drop was…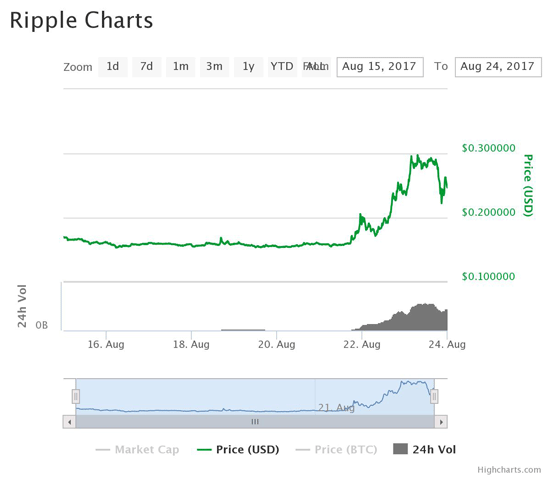 So what should cryptocurrency investors do?
The answer is to look at Bitcoin. Yes, I know the digital currency is trading for more than $4,000, but that's meager to how high it could climb.
In fact, this Bitcoin price chart predicts a 2,200% gain by 2021.
The Bottom Line: Ripple prices are down over 21% today because the company's announcement did not live up to what the digital currency world was expecting. Ripple shareholders were hoping the platform would be used by Alibaba or that there would be a major deal made in China.
Pot Stocks Creating Historic Cash Windfalls: The $6.7 billion legal marijuana market is estimated to top $35 billion by 2020. And a few dozen tiny stocks are set to deliver potentially once-in-a-lifetime windfalls. As a service to Money Morning readers, we're now making available our 89-page cannabis investing guide, The Roadmap to Marijuana Millions. This "bible of weed investing" features the absolute top 30 pot stocks in edibles, dispensaries, biotech, and more – all of which could make you a fortune. Click here to reserve your copy now!
Follow Money Morning on Facebook, Twitter, and LinkedIn.