Today, we've ranked the 10 top penny stock gainers of August 2017, all of which will be on our watch list as we move into September 2017. After this list, we'll also give you one of the best small-cap stocks to invest in this year.
Here are the 10 top penny stocks to watch for September 2017:
| | | |
| --- | --- | --- |
| Penny Stock | Current Stock Price | August 2017 Gain (as of Aug. 28) |
| DryShips Inc. (Nasdaq: DRYS) | $3.10 | +187% |
| Ion Geophysical Corp. (NYSE: IO) | $7.05 | +98.6% |
| CareDx Inc. (Nasdaq: CDNA) | $2.62 | +97% |
| China Finance Online Co. (Nasdaq ADR: JRJC) | $2.61 | +84.5% |
| Appliance Recycling Centers of America (Nasdaq: ARCI) | $1.23 | +82.3% |
| Phoenix New Media Ltd. (NYSE ADR: FENG) | $4.38 | +63.7% |
| Tremor Video Inc. (NYSE: TRMR) | $3.39 | +61.7% |
| FalconStor Software Inc. (Nasdaq: FALC) | $0.33 | +58.3% |
| T2 Biosystems Inc. (Nasdaq: TTOO) | $4.15 | +57.8% |
| Chiasma Inc. (Nasdaq: CHMA) | $2.10 | +55.6% |
NEW: Plot your course to a seven-figure weed windfall with the top pot stocks from every ecosystem - growers, edibles, dispensaries, and more. Read more...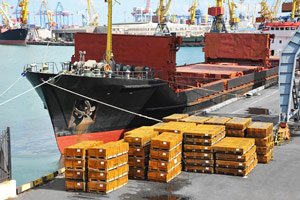 The top penny stock of August 2017 has been DryShips Inc., a freight and commodities shipping company whose shares are up 187%, from $1.08 at the July 31 close to $3.10 today. DRYS stock surged 51.2% on Aug. 11 alone after the firm approved a huge sale of shares...
According to the company's official statement, DryShips said it would sell $100 million worth of shares to the company's CEO, George Economou, at $2.75 per share. By buying back shares of his own company, Economou said he will use the proceeds to reduce the company's debt load of $200 million and acquire new cargo vessels.
Sign up for SMS so you never miss special events, exclusive offers, and weekly bonus trades.
The DRYS rally marks a strong rebound for the stock, which has been crushed by eight stock splits since March 2016. Shares are down 100% over the last 12 months.
This shows how risky some penny stocks can be. Although DRYS is up 187% so far this month, we don't recommend buying that or any other company listed above. Since these stocks have already posted double- and triple-digit gains, buying in now could set you up for a loss since they're trading at high prices.
Here at Money Morning, we don't advise buying a penny stock just because it's rallying. It's always important to go beyond the gains and dig into the company's financials, including its annual 10-K filing and quarterly earnings.
But Money Morning Small-Cap Specialist Sid Riggs conducts that research for Money Morning Members. He's an expert at finding small stocks with big potential. In fact, one of his recent recommendations has gained 33.2% since he first told readers about it on June 12.
Although many of his picks cost slightly more than the $5 cutoff for penny stocks, they're more expensive for a reason. Their market caps are often between $300 million and $2 billion, which means they're more stable than micro-cap penny stocks.
And today, he's recommending another company that operates in the growing industries of defense and solar. It has also smashed analysts' earnings expectations over the last three quarters.
Here's Sid's pick...
The Best Small-Cap Stock to Buy in 2017