There's been a new group of stock market crash warnings released this month by some of the biggest institutional investors on Wall Street. But that doesn't mean you should pull all of your money out of the markets. In fact, doing exactly that caused investors throughout the United States to miss out on the current nine-year bull market.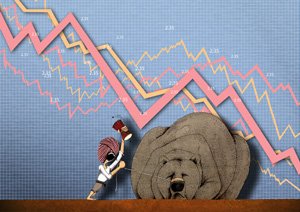 The problem in the current environment is that too many headlines warn of dire consequences from dysfunction in Washington and the specter of higher interest rates from the Federal Reserve. Even worse, investors are starting to brace for yet another debt-ceiling debacle.
Some of the heavyweights in the money management business, such as Ray Dalio, founder of Bridgewater Associates LP, and "Bond King" Bill Gross, founder of PIMCO LLC and now legendary portfolio manager at Janus Henderson, are getting cold feet. As a group, these folks are saying things like "we're at the highest risk levels since 2008," "time to move toward the exits," and "everything is expensive and we are late in the business cycle."
Quite a scary picture. And they represent a lot of nervous money – in the neighborhood of $1.7 trillion in capital – that can make a big dent in the market should they decide to stampede out of stocks.
Clearly, it makes sense to pay attention to these successful investors. However, it does not mean selling everything and heading for the hills when stock market crash warnings start appearing…
How to Be Careful and Smart at the Same Time
Money Morning Capital Wave Strategist Shah Gilani agrees that there is always a need to be on the lookout for a downturn. However, he cautions that taking your money and sitting on the sidelines is one of the worst moves an investor can make.
Following the financial crisis bear market, investors were shell-shocked, and many never got back into stocks. They watched the Dow Jones Industrial Average rally from roughly the 7,000 level to 12,000 without them. Those who did own stocks may have listened to the naysayers who warned the market was too high and sold.
Urgent: An $80 billion cover-up? Feds use obscure loophole to threaten retirees… Read more…
They then watched the Dow rally to 16,000 in mid-2014. As the price of oil started to tumble, they listened to the naysayers warn of a slowing economy.
They watched the Dow lift off from the 18,000 level after the election last year, when the naysayers said the political climate was too contentious.
Were they kicking themselves for not being in stocks when the Dow briefly topped 22,000 only a few weeks ago?
At each of these levels, so-called experts warned that the market was too high or overvalued. Or that the economy was not improving. Or that the dollar was about to collapse resulting in hyperinflation. They've been preaching a stock market crash for several years, now.
Through it all, the stock market remained the best place for investors to build wealth, and as the lottery people say, "you have to be in it to win it."
Of course, no market can move in a straight line, and it has been quite some time since we've seen an important market correction. But being bullish on stocks doesn't mean not having a plan in case things go awry.
Gilani agrees, and he has a very important strategy for investors to follow to protect their money from a downturn while still riding the market higher.
Here's how to ride the market higher while remaining cautious of any potential stock market crash…
How to Protect Your Money as Stock Market Crash Warnings Abound