The price of silver has been flat lately, but that could change as the Fed considers its next monetary decision…
Silver prices mimicked gold's price action pretty closely last week, trading in a tight range between $17.05 and $16.96. From Friday, Aug. 18, to Friday, Aug. 25, silver climbed just 0.3% to close at the high end of that range at $17.05.
With the U.S. Dollar Index (DXY) falling and gold prices staying flat, silver was unable to demonstrate much growth. Over the Aug. 18-25 period, the DXY tumbled 91 basis points from 93.43 to 92.52, while gold saw a small 0.5% gain from $1,292 to $1,298.
But as I mentioned in my gold update last week, the fast-approaching debt ceiling deadline on Sept. 29 could boost silver prices in 2017.
If the government can't raise the ceiling before then, the United States' AAA credit rating could be downgraded – a move which has historically led to stock market declines. When S&P downgraded the U.S. credit rating in August 2011, the Dow fell 2.7% over the following month. Another sell-off would spur silver buying as investors move into precious metals as a hedge.
But right now, the focus is mainly on the Fed and whether or not there's another rate hike on the table in 2017. That – combined with stronger technical indicators for silver right now – reinforce my bullish silver price targets for the rest of the year.
Before I get into those, here's a recap of silver's movement last week…
Price of Silver Rises 0.3% Last Week (Aug. 18 – Aug. 25)
After settling at $17 on Friday, Aug. 18, the silver price opened higher at $17.04 on Monday, Aug. 21. It peaked at 10 a.m. before steadily pulling back to $17.01 by the close. That marked a small 0.06% gain from Friday's settlement.
Tuesday was similar in action, and that was despite the DXY bouncing from 93.09 to 93.55.  Silver prices moved up to $17.06 shortly after the open but reversed course throughout the day to settle 0.2% lower at $16.98.
Look for the X: This mysterious "X" pattern predicts which stocks are going up – with 100% certainty. Some have gained as much as 225% in 15 days and 264% in less than a month. Learn more…
But the metal rallied on Wednesday as the dollar fell 30 basis points from 93.50 to 93.20. Prices opened higher at $17.04 and, despite falling back below $17 in the morning, clawed their way higher through the afternoon. The price of silver closed the day at $17.05 for a 0.4% gain.
Here's a look at the DXY's action last week…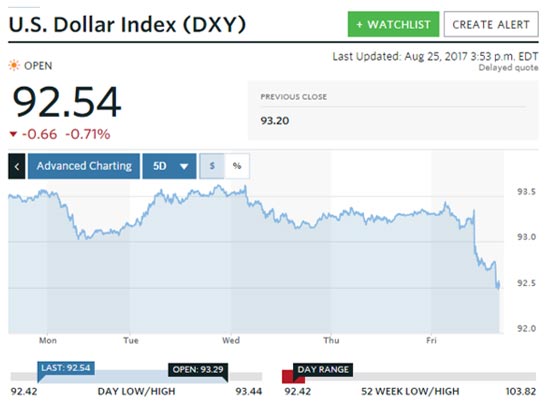 Despite the dollar moving mostly sideways on Thursday, silver prices gave back all of the previous session's gains. They opened near $16.88 at the open and moved higher throughout the session to close at $16.96. Despite that, prices still logged a 0.5% decline on the day.
On Friday, Aug. 25, the price of silver popped to $17.12 at the open. It fell back to trade near the $17 mark as Yellen's speech at the Jackson Hole symposium sidestepped comments on the U.S. economy's health and monetary policy. By late afternoon, silver had climbed back higher to close the day at $17.05 for a 0.5% rise. That marked a weekly gain of 0.3%.
But the silver price today (Monday, Aug. 28) is up 0.8% and trading at $17.18. This jump comes on the back of the falling DXY, which is down from 92.52 to 92.32 today.
With silver steadily gaining momentum over the last week, I think it still has more room to run higher as we move into the last four months of 2017. This will largely depend on a potential FOMC rate hike this year and continued strength in silver's technical indicators.
Here's why both could have a positive impact on the silver price this year…
My Bullish Targets for the Price of Silver in 2017
Join the conversation. Click here to jump to comments…
About the Author
Peter Krauth is the Resource Specialist for Money Map Press and has contributed some of the most popular and highly regarded investing articles on Money Morning. Peter is headquartered in resource-rich Canada, but he travels around the world to dig up the very best profit opportunity, whether it's in gold, silver, oil, coal, or even potash.