The iPhone 8 is set to hit the streets this fall, and all indications are it'll be the smash hit we've been expecting.
Of course, the Apple fans out there are excited, as we knew they would be. I'm fired up, too, but for an entirely different reason.
Now, it's not because of what the iPhone 8 is – the latest iteration of an outrageously popular and undeniably cool piece of personal tech…
And it's not for what the new iPhone represents – the 10th anniversary of "iEverything"…
Rather, it's because of what the iPhone 8 has…
Biometrics.
That's right: The iPhone 8 (and, in short order, nearly every smart device that hits the market) will have some extremely sophisticated biometric technology onboard, largely thanks to this company…
This Is a "Backdoor" to Every Big-Cap Mobile Maker
Fingerprint recognition, voice recognition, iris recognition, and facial recognition are just some of the biometric functions we'll come across more and more in our daily lives.
Fact is, we're already using them to some extent; the last generation of smartphones from Apple, Samsung, and LG, for instance, included fingerprint readers, and tens of millions of Americans are on a first-name basis with Siri, Alexa, and "OK Google."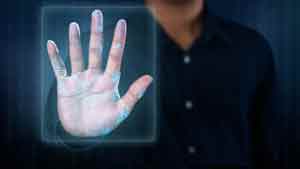 All of these can keep your device safe, read you curated news, order you a pizza, or call you a Lyft.
As the list of indispensable devices gets "smarter," the demand for biometrics for security or device-input reasons is growing at an increasingly rapid rate.
In 2015, the biometrics industry was worth roughly $10 billion. But according to Grand View Research, by 2025, biometrics promises to be a $60 billion industry – a 600% increase in just eight years.
And that's conservative. A recent report from Research and Markets projects a compound annual growth rate (CAGR) of 23% over that same time frame, with the industry hitting $70 billion by 2025.
The difference alone between these two estimates is about what the entire biometrics market was worth barely three years ago.
This is becoming the must-have tech.
Join the conversation. Click here to jump to comments…
About the Author
Michael A. Robinson is one of the top financial analysts working today. His book "Overdrawn: The Bailout of American Savings" was a prescient look at the anatomy of the nation's S&L crisis, long before the word "bailout" became part of our daily lexicon. He's a Pulitzer Prize-nominated writer and reporter, lauded by the Columbia Journalism Review for his aggressive style. His 30-year track record as a leading tech analyst has garnered him rave reviews, too. Today he is the editor of the monthly tech investing newsletter Nova-X Report as well as Radical Technology Profits, where he covers truly radical technologies – ones that have the power to sweep across the globe and change the very fabric of our lives – and profit opportunities they give rise to. He also explores "what's next" in the tech investing world at Strategic Tech Investor.