The iPhone 8 is set to hit the streets this fall, and all indications are it'll be the smash hit we've been expecting.
Of course, the Apple fans out there are excited, as we knew they would be. I'm fired up, too, but for an entirely different reason.
Now, it's not because of what the iPhone 8 is – the latest iteration of an outrageously popular and undeniably cool piece of personal tech…
And it's not for what the new iPhone represents – the 10th anniversary of "iEverything"…
Rather, it's because of what the iPhone 8 has…
Biometrics.
That's right: The iPhone 8 (and, in short order, nearly every smart device that hits the market) will have some extremely sophisticated biometric technology onboard, largely thanks to this company…
This Is a "Backdoor" to Every Big-Cap Mobile Maker
Fingerprint recognition, voice recognition, iris recognition, and facial recognition are just some of the biometric functions we'll come across more and more in our daily lives.
Fact is, we're already using them to some extent; the last generation of smartphones from Apple, Samsung, and LG, for instance, included fingerprint readers, and tens of millions of Americans are on a first-name basis with Siri, Alexa, and "OK Google."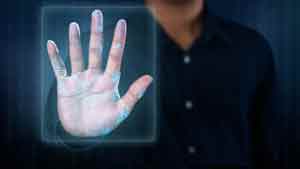 All of these can keep your device safe, read you curated news, order you a pizza, or call you a Lyft.
As the list of indispensable devices gets "smarter," the demand for biometrics for security or device-input reasons is growing at an increasingly rapid rate.
In 2015, the biometrics industry was worth roughly $10 billion. But according to Grand View Research, by 2025, biometrics promises to be a $60 billion industry – a 600% increase in just eight years.
And that's conservative. A recent report from Research and Markets projects a compound annual growth rate (CAGR) of 23% over that same time frame, with the industry hitting $70 billion by 2025.
The difference alone between these two estimates is about what the entire biometrics market was worth barely three years ago.
This is becoming the must-have tech.
Join the conversation. Click here to jump to comments…
About the Author
Michael A. Robinson is a 35-year Silicon Valley veteran and one of the top technology financial analysts working today. He regularly delivers winning trade recommendations to the Members of his monthly tech investing newsletter, Nova-X Report, and small-cap tech service, Radical Technology Profits. In the past two years alone, his subscribers have seen over 100 double- and triple-digit gains from his recommendations.
As a consultant, senior adviser, and board member for Silicon Valley venture capital firms, Michael enjoys privileged access to pioneering CEOs and high-profile industry insiders. In fact, he was one of five people involved in early meetings for the $160 billion "cloud" computing phenomenon. And he was there as Lee Iacocca and Roger Smith, the CEOs of Chrysler and GM, led the robotics revolution that saved the U.S. automotive industry.
In addition to being a regular guest and panelist on CNBC and Fox Business Network, Michael is also a Pulitzer Prize-nominated writer and reporter. His first book, "Overdrawn: The Bailout of American Savings" warned people about the coming financial collapse - years before "bailout" became a household word.
You can follow Michael's tech insight and product updates for free with his Strategic Tech Investor newsletter.