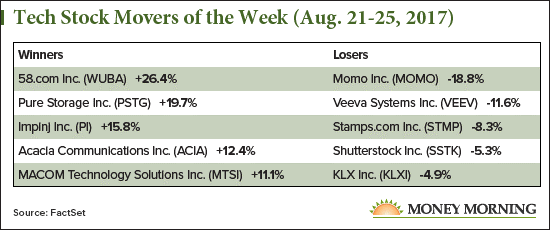 Our latest list of tech stock* movers of the week was once again driven largely by earnings reports, though not always in ways you'd expect.
58.com Inc. (NYSE: WUBA) soared 26.4% after crushing earnings expectations. The online classifieds platform reported earnings per share (EPS) of $0.54, 218% better than the $0.17 expected by analysts. Revenue, at $382.81 million, was up 28.5% from a year earlier and beat expectations by $45.61 million. WUBA has had a stellar year so far, up more than 125% in 2017. Shares closed the week at $67.33.
Pure Storage Inc. (NYSE: PSTG) jumped 19% on Friday after releasing its quarterly earnings report. The California-based flash storage provider didn't report a profit, but the negative earnings of $0.11 per share were better than expected. Revenue was up 37.6% from a year earlier, and the company raised the lower end of its revenue guidance for 2018 from $975 million to $985 million. Shares closed the week up 19.7% at $14.95.
BREAKING: New Legislation Could Turn Tiny Pot Stocks into Millions. Click Here…
Now for last week's tech disappointments…
Momo Inc. (Nasdaq: MOMO) dropped 18.8% for the week after its quarterly earnings fell well short of expectations. The Beijing-based company reported EPS of $0.15, just more than half of the expected $0.29. The stock dropped 20% the next day before recovering slightly. The number of monthly active users for the mobile social networking platform was at 91.3 million as of June, up from 74.8 million a year earlier. Shares closed the week at $35.59.
Veeva Systems Inc. (NYSE: VEEV) fell 11.6% for the week after releasing its quarterly earnings report on Thursday. EPS for the quarter was $0.23, compared to $0.20 expected, and guidance for the next quarter and the 2018 fiscal year was above consensus. Subscription revenue for the cloud services provider was up 28% from a year ago. In spite of good news, investors soured on the stock, which dropped from $64.59 on Thursday to close the week at $55.81.
Tech Stocks to Watch This Week
Here are a couple tech stocks we're keeping an eye on for the coming week…
Fang Holdings Ltd. (NYSE: SFUN) releases its earnings report on Tuesday, Aug. 29. Fang appeared on our tech movers list for the week of July 3-7, when it dropped 14.8%. So watch out for any volatility that could come from that report.
Palo Alto Networks Inc. (NYSE: PANW) reports on Thursday, Aug. 31. The stock spiked dramatically after it beat estimates in its last report in late May.
We'll keep you updated if there's anything you need to know to make money on these moves.
*Stocks have a primary listing on a U.S. exchange, a market cap greater than $1 billion, and are in either the Technology Services or Electronic Technology sector. Data and analytics provided by FactSet.
Up Next: One gallon of this new "crystal fuel" could get you from New York to L.A. and back… seven times! Being hailed by many experts as energy's "Holy Grail," it's 1,693 times more powerful than the gasoline that runs your car. The mainstream investment media isn't even talking about it yet. Read more…
Follow Money Morning on Twitter @moneymorning, Facebook, and LinkedIn.
Join the conversation. Click here to jump to comments…
About the Author
Stephen Mack has been writing about economics and finance since 2011. He contributed material for the best-selling books Aftershock and The Aftershock Investor. He lives in Baltimore, Maryland.