North Korea's missile launch yesterday (Aug. 28) has drastically escalated the tension between itself and the United States, South Korea, and Japan…
Be it due to sheer recklessness, a refusal to lose face, or some combination of the two, Kim Jong Un has once again ramped up his country's aggressive presence by launching a missile over Japan.
The shockwaves of this show of force will undoubtedly be felt worldwide in the weeks to come, but there's one effect of the Hermit Kingdom's terrifying momentum that can actually benefit the American people.
Or at least, those American people who know what to look for.
We'll explain what we mean, but first, a bit of background…
North Korea's Missile Launch Message: Yep, It Was a Weapon This Time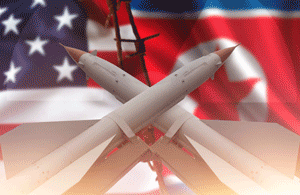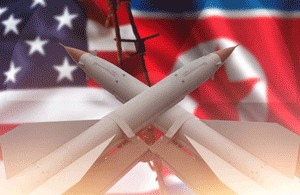 Before yesterday, Pyongyang had sent only two other projectiles over Japanese territory…
Once in 1998, and again in 2009.
But in both of these instances, North Korea rebutted claims that the projectiles had been missiles, stating instead that they were just satellites.
This time, however, Kim Jong Un's regime made no such excuse. By not explaining away the projectile, it sent a much more aggressive message: "Yeah, that's us firing at you."
More proof to this point can be found in the missile's journey over the Land of the Rising Sun, as well…
North Korea Is on a Dangerous Trajectory
The missile, thought to be a new intermediate-range Hwasong-12, flew over Hokkaido and landed in the Pacific about 733 miles east of the northern Japanese island, South Korean and Japanese officials said, according to The North East this morning.
More worrisome about the projectile's flight path, however, was its trajectory.
It was flatter than ever before.
Whereas Pyongyang has launched its missiles at a higher trajectory in the past – which causes them to arc in the atmosphere and land nearby – yesterday's was flat, allowing it to travel a longer distance.
A flatter trajectory also means better aim at a specific target with a bigger punch on impact.
Don't Miss: Trump's Secret Weapon Set to Foil China's Master Plan
Upon noting the projectile's course yesterday, the Japanese government's J-Alert system broke into radio and TV programming to tell citizens to take cover.
But since yesterday, the Japanese government's response to the North Korean missile launch has gone from reactionary caution to downright ire…
Prime Minister Shinzo Abe: The Launch Was a "Grave Threat"
Japanese Prime Minister Shinzo Abe denounced the launch as an "unprecedented and grave threat" to the country's security, reported Yonhap News today.
Other news this morning reported that Abe, in a 40-minute phone call with U.S. President Donald Trump, agreed to call for an emergency meeting of the UN Security Council to discuss the situation.
And this "situation" could soon see Japan armed with a missile defense system of its own…
 When It Comes to Defense, Abe Has Options
Pyongyang's missile launch yesterday is sure to result in renewed calls for upgraded missile systems in Japan.
Earlier this month, on Aug. 2, Tokyo-based journalist and the author of Japanization: What the World Can Learn from Japan's Lost Decades William Pesek laid out his argument for THAAD in Japan via Forbes…
"It's time Abe reversed course… in a way sure to shock both Kim and Chinese President Xi Jinping: follow Seoul's lead and build a web of Terminal High Altitude Area Defense (THAAD) systems around his geopolitically vital nation," Pesek wrote.
Pesek went on to argue that THAAD in Japan would benefit the Pacific "Western" alliance between Tokyo, Seoul, and Washington…
One, by doing its job and protecting the Japanese against an onslaught of North Korean missiles.
Two, by "freaking out" Beijing to the point that it might "bring clarity to [Chinese President] Xi's thoughts on the need to rein in China's client state."
NEW: Plot your course to a seven-figure weed windfall with the top pot stocks from every ecosystem – growers, edibles, dispensaries, and more. Read more…
But Japan has long expressed doubts about THAAD, taking "Aegis Ashore" into consideration instead.
The Aegis missile defense system is typically installed atop warships to provide missile defense against short- to intermediate-range ballistic missiles.
But Japan is looking to install Aegis on land…
In an Aug. 18 meeting with U.S. Defense Secretary Jim Mattis, Japanese Representative Itsunori Onodera asked for U.S. support with installing "Aegis Ashore."
"North Korea has developed new technology in ballistic missiles and now it's a threat not just to Japan but to the U.S. There is a need to deploy missile defense securely with a new asset," Onodera said, according to The Financial Times on Aug. 18.
And Money Morning Executive Editor Bill Patalon knows just the company that will benefit from this new military industrial endeavor…
Boeing to the Rescue
One of Bill's biggest defense stock winners – Boeing Co. (NYSE: BA) – has been a key player in both Aegis' and THAAD's development, as well as that of the Pentagon's Ground-Based Midcourse Defense system – or GMD – that was successfully tested in May.
That means that, no matter what system Prime Minister Abe employs to defend his people, Boeing stands to profit from the contract.
Bill knows his defense stocks, as he's been reporting on the "Asian arms race" for over three decades now.
And when he first recommended Boeing to his Private Briefing subscribers in 2011, years before its major successes with THAAD, Aegis, and GMD, it was trading at just $61.92.
But Bill recognized its potential in the defense sector. And he's written about the aerospace manufacturer's growth over the years, most recently telling his Private Briefing subscribers how the company might soon provide President Donald Trump with a "new" Air Force One.
Today, Boeing's share price is $237.04 – a price increase of 283%.
Plus, Boeing has beat the S&P 500 this year by a whopping 43% – amid a historical rally to boot.
Bill's Private Briefing portfolio has several other lucrative defense picks as well. Click here to see how you could reap the rewards yourself…
Follow Money Morning on Twitter @moneymorning, Facebook, and LinkedIn.
Related Articles: