The revelation last year that OneCoin was nothing more than a Ponzi scheme has made investors skeptical of all digital currencies. That is a mistake.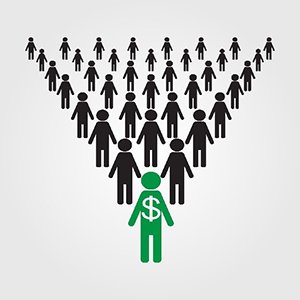 In fact, investors who avoid cryptocurrencies are missing out on the greatest wealth creator on the market now...
OneCoin was created to capitalize on the allure of Bitcoin and its spectacular price growth. Bitcoin's price has skyrocketed 76,500%, from just $6.18 a coin in 2012 to $4,596.40 a coin today. OneCoin was designed to lure investors who were looking for similar profits.
At Money Morning, we've helped readers avoid these "Initial Coin Offering" scams and steered them to the best cryptocurrencies to buy instead.
Here's how this scheme could have been avoided - and how investing in the right cryptocurrency can still return astounding 40,000% gains...
How the OneCoin Scam Fooled Unwitting Investors
The company OneCoin developed a cryptocurrency called "onecoins" in 2015. The only way investors could buy onecoins was by first buying the educational material on investing from OneCoin. The company called these "educational packages."
However, these "packages" were nothing more than an initiation fee to gain access to onecoins. More expensive "packages" allowed investors to accrue more onecoins than the cheaper packages, which started at $100.
BREAKING: New Legislation Could Turn Tiny Pot Stocks into Millions. Click Here...
But there were some major red flags...
The educational packages told investors how to profit from the OneCoin system. One way was recruiting more investors to buy more packages. Another claimed investors who recruited more people were paid in OneCoin. And the company limited how much money each investor could pull out of the exchange at one time.
In other words, early investors are paid with the money made from new recruits, and when there are no more recruits, there is no more money to pay investors.
This is a classic pyramid scheme. The cryptocurrency was otherwise worthless.
So far, authorities in Finland, Luxembourg, Italy, Vietnam, Belize, Germany, and India have banned or prosecuted promoters of OneCoin over fraud. The Italian government levied a €2.59 million fine against these companies for running a pyramid scheme earlier this month (August 2017).
While OneCoin does not operate in the United States - because its operation would be illegal - there are still some easy strategies investors can take away from this scam.
The U.S. Securities and Exchange Commission recommends a few simple strategies for avoiding scams surrounding cryptocurrencies:
First, make sure the currency's promoter has a clear, understandable business plan.
Knowing how the coins can be used, whether investors can sell it on a secondary market, and what the company plans to do with the money raised helps investors know if the business is legitimate or not.
Second, confirm there has been an independent cybersecurity audit of the blockchain.
This shows that the coin's blockchain is using cryptography to keep transactions secure. In the case of OneCoin, its blockchain was no more sophisticated than an Excel spreadsheet, according to The Atlantic. That the company was using the language associated with blockchains without employing the technology was an obvious red flag.
Third, look out for marketing pitches from these companies that pressure you to act immediately or are promoting products that don't appear valuable.
If someone is pushing a cryptocurrency with this marketing approach, chances are the business behind the coin won't stand up to scrutiny. Investors who thoroughly examine a company, the coin's blockchain, and know their options wouldn't have been fooled by OneCoin's pyramid scheme.
While OneCoin was an obvious scam, authentic cryptocurrencies have nearly limitless potential and could remake the global financial system. That's why investors are so eager to dive into the next cryptocurrency without doing thorough research.
Fortunately, we've been covering digital currencies for years, and we know the best cryptocurrencies to invest in.
Here's how to invest in cryptocurrencies for potential 1,000% gains in the next five years...
How to Invest in Cryptocurrencies Safely and Profitably