BuzzFeed might go public in 2018, but until it does, there will not be a BuzzFeed stock symbol investors can look up on their trading accounts.
The Internet media company will need to file official paperwork with the SEC before going public and choosing a stock ticker.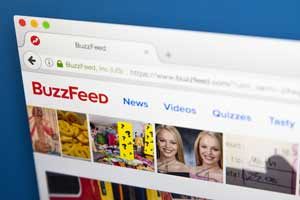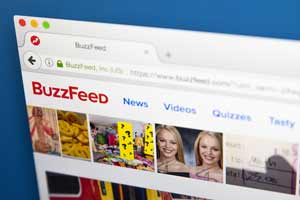 However, we do have a hunch what the BuzzFeed stock ticker will be.
Before we speculate on the Buzzfeed stock symbol, we wanted to make sure Money Morning readers know more about BuzzFeed as an investment.
With a valuation of over $1.7 billion, there's a lot of hype around this public offering, but hype alone won't make BuzzFeed stock a good investment...
BuzzFeed: A $ 1.7 Billion Media Content Company
Sign up for SMS so you never miss special events, exclusive offers, and weekly bonus trades.
New York-based BuzzFeed is a media company that publishes news, celebrity gossip, quizzes, and recipes. The company was founded in 2008 by current CEO Jonah Peretti, John S. Johnson, III, and chairman Kenneth Lerer.
BuzzFeed receives more than 200 million unique visitors per month, according to its website.
While the company doesn't publish its financial figures, CNBC reported in April 2016 that its 2015 revenue was roughly $170 million. CNBC also estimated it would generate revenue of $250 million in 2016.
In comparison, the New York Times Co. (NYSE: NYT) generated $209 million in 2016 in digital ad revenue.
Must Read: How to Buy Bitcoins - Your Guide to Digital Profits
Now that you know more about the company, here's what we speculate the BuzzFeed stock symbol could be...
This Could Be the BuzzFeed Stock Symbol
Companies want to make their stock symbols easily identifiable for retail investors. For example, Snap Inc. (NYSE: SNAP) chose the symbol SNAP before it went public on March 2, 2017.
Before Blue Apron Holdings Inc. (NYSE: APRN) went public on June 29, 2017, it selected the stock symbol APRN. BuzzFeed could follow suit and select an easily identifiable symbol like "BUZZ."
So when BuzzFeed files its paperwork and schedules an IPO, should you plan to buy BuzzFeed stock?
Here's how to prepare yourself ahead of the BuzzFeed IPO...
What to Do Before the Buzzfeed IPO Date