(Kitco News) – World stock markets were mostly higher again overnight as investor risk appetite quickly returned to the world marketplace after North Korea fired a missile over Japan on Tuesday. U.S. stock indexes are pointed toward firmer openings when the New York day session begins. U.S. stock indexes are at or close to record highs.
Gold prices are slightly lower on a corrective pullback from good gains posted Thursday, in which prices closed at a technically bullish monthly high close.
Traders and investors are awaiting the major U.S. data point of the week and arguably of the month: Friday morning's employment situation report for August from the Labor Department. The non-farm jobs number is forecast to come in at up around 180,000. However, Wednesday's higher-than-expected ADP jobs number has many thinking Friday's employment report will be a miss to the upside. The wage-growth component of the jobs report will also be an important number. Look for many markets to become more active in the immediate aftermath of the jobs report, especially if it's a miss from market expectations.
However, then look for U.S. trading activity do die down quickly, as many traders will hit the exit doors early to get a jump on the three-day Labor Day holiday weekend. Some U.S. markets close early Friday.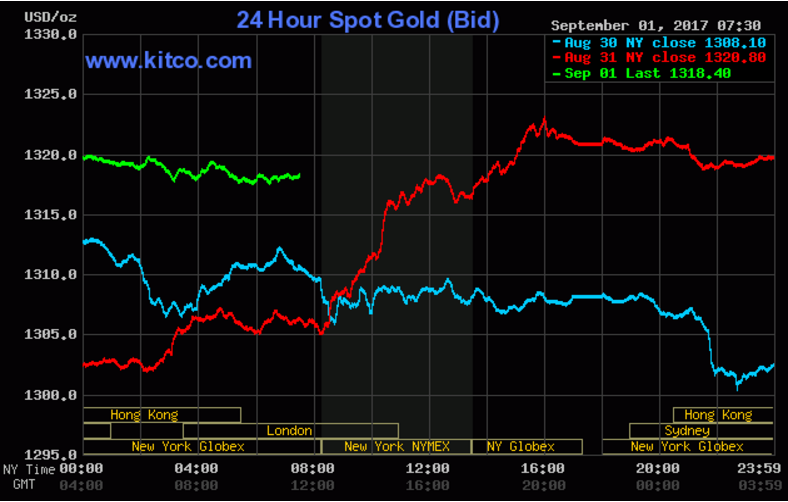 In overnight news, the Euro zone August manufacturing purchasing managers' index (PMI) came in at 57.4, which was right in line with market expectations.
China's Caixin manufacturing PMI came in at 51.6. A number above 50.0 suggests growth in the sector. China's stock markets were boosted by the PMI data.
The U.S. dollar index is slightly lower early Friday. The greenback bears have the firm overall near-term technical advantage.
The other key outside market sees Nymex crude oil futures lower. Prices are in a four-week-old downtrend on the daily bar chart and the bears have the overall near-term technical advantage.
There is a heavy slate of other U.S. economic data due for release Friday, including the U.S. manufacturing PMI, the University of Michigan consumer sentiment survey, construction spending, the ISM manufacturing report on business, the global manufacturing PMI, and domestic auto industry sales.
By Jim Wyckoff, contributing to Kitco News; jwyckoff@kitco.com
Follow Jim Wyckoff @jimwyckoff for breaking news.