The marijuana industry is anticipated to be one of the largest catalysts in the American economy by 2021, according to the latest "Marijuana Business Factbook."
The factbook provides an in-depth look at the immense year-over-year growth of the marijuana industry - and offers exclusive projections on where it's headed.
And according to the report, the legal marijuana industry is expected to soar more than 200% over the next four years.
That's leaps and bounds higher than CNBC's projected growth of the Dow Jones Industrial Average (36.31%) over the same time.
The projections are astonishing. Just look at this chart...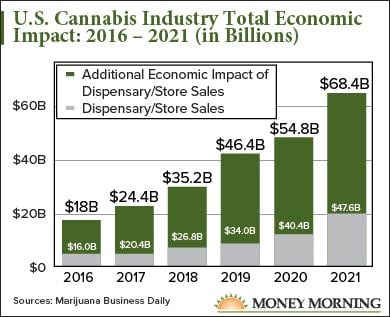 The chart's estimates for the industry's economic impact are based on retail marijuana sales and incorporate a multiplier of four. In other words, for every $1 consumers spend on marijuana and marijuana-related products, another $3 in economic benefits are created in their communities.
This extra economic impact is due to increases in real estate and construction activity, job opportunities created by dispensaries, state and local taxes, and heightened tourism.
Special Report: Cannabis Is the Gold Rush of the 21st Century - 30 Stocks to Invest in Now. Details here...
As more states legalize marijuana and create new markets, the total economic impact of legal marijuana sales will rise from $16 billion in 2016 to a projected $68 billion by 2021 - that's a 241% increase.
Of course, there's a caveat: U.S. President Donald Trump and his team have cast a shadow of doubt across the marijuana industry. That's because Trump's appointed Attorney General, Jeff Sessions, is a staunch opponent of the drug in any form - medical or recreational. But as we've shown you time and time again, Jeff Sessions is unlikely to win the fight against marijuana legalization.
And while Sessions continues to fight, states will continue to legalize...
And investors will be raking in profits hand over fist.
You see, these projections are yet another example of how profitable the marijuana industry can be for investors. In fact, we've seen marijuana stocks climb 8,875%, 13,900%, and even higher in a matter of months or even weeks. And you could profit from these kinds of gains.
That is, if you know how to separate the buds from the duds...
How to Become a Pot Stock Millionaire