Russian President Vladimir Putin told America to stop pressuring Pyongyang over its nuclear missile program this morning.
But he had an ulterior motive.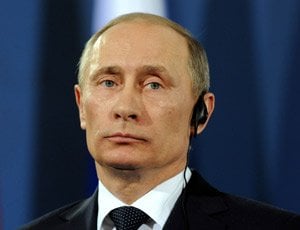 In an article published on the Kremlin's website (en.kremlin.ru) entitled "National Open Lesson Russia Focused on the Future," Moscow's commander-in-chief wrote, "In Russia's opinion the calculation that it is possible to halt North Korea's nuclear missile programs exclusively by putting pressure on Pyongyang is erroneous and futile."
"Provocations, pressure, and bellicose and offensive rhetoric is the road to nowhere," he added.
While Putin didn't specifically mention the United States by name, it doesn't take a rocket scientist (a nuclear one, at that) to figure out to whom the Russian president's editorial was primarily addressed...
America.
And its commander-in-chief, President Donald Trump, as well.
While Putin's open letter managed to exude a pragmatic voice advising Washington to stand down, Putin didn't write and publicly share his op-ed just to offer friendly advice.
Here's what we mean...
"Pragmatic Putin" Is Hiding Something
It's international and public knowledge these days that Moscow and Pyongyang have, in recent months, developed quite a lucrative trade relationship.
Especially since Beijing imposed coal import sanctions on the regime last December.
Russia picked up that slack - so much so that it boosted its trade with North Korea by 73% in the first two months of this year.
BRILLIANT: Average Americans Are Becoming Marijuana Millionaires
So it would be more than logical to theorize that Putin's ulterior motive for keeping the United States at bay is to ensure the Moscow/Pyongyang trade relationship maintains its fully functioning, lucrative course.
But there's actually a much larger reason for the Russian commander-in-chief's warning to America today.
The fact that Putin wrote his advice in the form of an internationally available op-ed is evidence of his long-term play...
North Korea Is Russia's Pawn in the Global Game of Power
Russia wants to be powerful.
And it wants to be recognized as a major world power.
To achieve this, Moscow will do whatever it takes - even if that means playing "devil's advocate" with its neighboring countries.
Money Morning Executive Editor Bill Patalon has written extensively about Moscow's unique position in the greater "Asian arms race."
"The reason Russia plays the devil's advocate," Bill told his Private Briefing subscribers on May 31, "is for leverage over almost any situation. And North Korea is a perfect pawn right now for Putin's global game."
Don't Miss: Trump's Secret Weapon Set to Foil China's Master Plan
Indeed, while Russia subsidizes North Korea to keep it economically stable enough to continue on with its weapons advancements, Moscow has been subsidizing other nations, as well.
Such as China and Vietnam - two nations that are, presently, at odds with one another.
"Russia has been actively arming all of East Asia for years now," Bill says.
And this poses a distinct threat to the United States.
You see, more Asian nations with state-of-the-art weapons from Russia means America's weapons defense systems had better be ready for near-instant use to fight back.
Luckily, two of America's main weapons defense systems, THAAD in South Korea and the ground-based midcourse defense system - GMD - in Alaska, completed successful tests recently, with more tests slotted to occur in the near future.
The United States Is Getting In on the "Asian Arms Race"
The GMD's success, in particular, will now lead to a continued rollout of new, identical systems nationwide.
With that in mind, what better way is there to make surefire profits amid the turmoil than to literally invest in our nation's safety?
And one of Bill's longtime recommendations is doing just that.
It's giving shareholders tons of profit while keeping them safe as well.
That company would be Boeing Co. (NYSE: BA) - a firm directly involved in both GMD and THAAD's production.
When Bill initially recommended BA in September 2011, it was trading at $61.92.
Today, the aircraft manufacturer is trading at $241.65
That's a 290% increase.
And it looks like the aircraft manufacturer's share price will continue to rise...
On June 20, Boeing raised its 20-year industry forecast for plane deliveries from 29,530 jetliners to 41,030, with their value at list prices topping $6 trillion for the first time ever.
Bill's Private Briefing is full of current and well-researched analysis and stellar stock picks. See for yourself.
Follow Money Morning on Twitter @moneymorning, Facebook, and LinkedIn.
Related Articles: