Bitcoin prices fell $200 last night after China announced it was banning ICOs, but Bitcoin owners don't have to worry about a short-term price drop like this one...
Bitcoin dropped 5.96% between 10:00 a.m. on Sept. 4, 2017, and today, Sept. 5, 2017. But that's a small drop compared to the potential 131.59% gains Bitcoin could see by next year. This price target (which we told you about on Aug. 24) says Bitcoin could reach $10,000 in December 2018.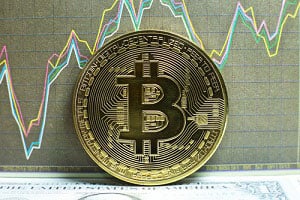 A dip in Bitcoin prices like we're seeing today could even be a buying opportunity before prices head even higher.
But before buying more of the digital currency, here's why China's new regulation sent Bitcoin prices down 5.96% in just one day...
Why Bitcoin Prices Dropped Nearly 6% in One Day
According to a Sept. 4 CNBC report, Chinese regulators are banning initial coin offerings (ICOs).
Companies raise money through ICOs by allowing investors to purchase a newly created digital currency. This is easier than a company raising money by going public, but ICOs aren't regulated like IPOs.
Must See: The South China Sea is about to get violent. But thanks to a small $6 U.S. defense firm with a top-secret new technology, China is about to be taken to the woodshed. Read more...
Chinese regulators called ICOs "unauthorized fundraising tools" and also said ICOs can lead to scams.
One such scam involved a digital currency called OneCoin. You can find out how the scam worked right here.
But even though Bitcoin is an established cryptocurrency, one of the only ways for investors to buy the new coin from an ICO is by using Bitcoin. You typically can't use traditional currencies to participate in an ICO, but must first purchase Bitcoins or other well-established cryptocurrencies.
And because Bitcoin prices are tied to supply and demand, ending ICOs across China weakens the demand for buying Bitcoin in the short term.
Still, the long-term growth potential of Bitcoin is undeniable. As you can see in the chart below, Bitcoin prices have climbed 606% in the past year alone.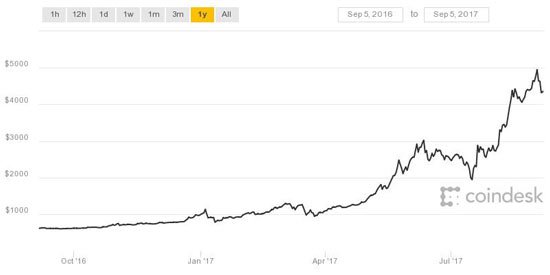 And the trend is going to continue. This new Bitcoin price chart shows prices could climb to $10,000 by 2018. But that's just the beginning, and the potential gains after that are even more impressive.
To see just how high Bitcoin prices can climb in 2018 and beyond, check out this free Bitcoin report by Money Morning Cryptocurrency Expert David Zeiler, right here.
Trump's Secret Weapon Against Chinese Aggression: Hostilities in the South China Sea now seem imminent, and the Trump administration could be on the verge of its first major crisis. But thanks to a small $6 U.S. defense firm with a top-secret new technology, China is about to be taken to the woodshed. Frankly, you have to see it to believe it...
Follow Money Morning on Facebook, Twitter, and LinkedIn.