As the nine-year-long bull market rages on, investors are starting to wonder, "when will the stock market crash again?"
The answer is that no one knows, but that doesn't mean you shouldn't prepare for one. That's important, because no stock market crash prediction is accurate. If they were, then investors could simply withdraw their money from stocks before a crash. Stock market crashes are so devastating because they are unexpected.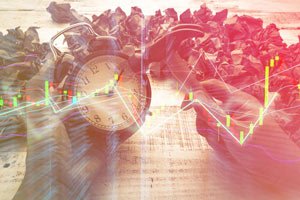 Fortunately, you don't have to wait for the next stock market crash to start protecting your money. We're here to show you just how to do that and why some analysts are suggesting the market could drop sooner rather than later…
When Will the Stock Market Crash Again?
On July 30, Business Insider said investors and strategists could be headed for a "rude awakening" thanks to a market crash warning sign.
According to the report, market volatility is too low.
The CBOE Volatility Index, or VIX, is commonly referred to as the market's "fear gauge." When the VIX is higher, it implies traders expect more market volatility. When it's lower, they are expecting calm.
Must See: This Great Depression-Era "Secret" Helped Transform Two Teachers into Millionaires. Read more…
The VIX hit an all-time intraday low of 8.84 on July 26. Today, the VIX is just at 10.15, which is 44% lower than the historical average, even after Hurricane Harvey decimated Houston and North Korea continues to threaten the United States.
Normally, low volatility is good, especially when the Dow is up over 11% on the year and nearly 20% in the last 12 months. But the analysts quoted in the Business Insider report argue that low volatility is actually a warning sign.
In short, volatility has nowhere to go but up, and the market won't stay calm forever.
We aren't buying that argument…
In fact, the VIX jumped to over 22 in early November last year and settled down to new lows this year.
Still, there are more signs that the stock market could correct soon – not crash, correct – and that's why investors are wise to prepare now…
Two Market Correction Warning Signs
There are two more reasons to be skeptical of this bull market's longevity.
First, the U.S. Federal Reserve is raising interest rates.
That's important, because low interest rates have helped boost stock prices.
The Fed cut interest rates to 0.25% – their lowest level ever – in 2008. This was an effort to boost U.S. economic growth by making it cheap and easy to borrow money. The Fed's hope was that corporations would use the money to stay in business and even expand, which would help grow the economy out of the Great Recession.
While publicly traded corporations took advantage of the easy money, they spent it on stocks.
Between 2009 and 2016, publicly traded companies borrowed $1.9 trillion, but they spent $2.1 trillion on repurchasing stock shares. This trillion-dollar spending spree helped boost stock prices, but with rates heading higher, it's unlikely to last.
Second, while stocks have surged – the Dow is up over 200% since 2009 – measures of stock valuation show that shares are valued at historically high levels.
The Shiller P/E ratio is a famous measurement of the market's overall price-to-earnings ratio that controls for the last 10 years of performance.
The Shiller P/E ratio is currently 30.33. That's 82% higher than its historical average. And it's even higher than it reached before the last stock market crash in 2008, when it reached 27.4.
While these signs don't mean a stock market crash is coming, they are reasons to prepare your portfolio for a downturn.
And protecting your money is as simple as buying into resilient stocks that are in demand no matter what the rest of the market is doing…
The 2 Best Stocks to Buy to Prepare for a Market Crash