Today, we're showing you 10 marijuana penny stocks to watch this month, including the biggest gainers from August. Then, we'll show you how to profit from Canada's upcoming cannabis legalization set for July 1, 2018 - which could grow the country's cannabis sales by 400% in four years...
| | | |
| --- | --- | --- |
| Marijuana Penny Stock | Today's Share Price | August 2017 Gain |
| Praetorian Property Inc. (OTCMKTS: PRRE) | $0.96 | +255% |
| MariMed Inc. (OTCMKTS: MRMD) | $0.57 | +201.7% |
| United Cannabis Corp. (OTCMKTS: CNAB) | $0.95 | +179.2% |
| Evergreen-Agra Inc. (OTCMKTS: EGRN) | $4.25 | +83.3% |
| Green Spirit Industries Inc. (OTCMKTS: GSRX) | $11.50 | +77% |
| Gala Global Inc. (OTCMKTS: GLAG) | $0.87 | +61.8% |
| Easton Pharmaceuticals Inc. (OTCMKTS: EAPH) | $0.02 | +50% |
| American Cannabis Co. Inc. (OTCMKTS: AMMJ) | $0.85 | +32.9% |
| 22nd Century Group Inc. (NYSEMKT: XXII) | $2.22 | +25.7% |
| MediJane Holdings Inc. (OTCMKTS: MJMD) | $2.05 | +20.6% |
The top pot penny stock on our list is Praetorian Property Inc. (OTCMKTS: PRRE), a real estate company that caters specifically to marijuana businesses. Praetorian sells commercial properties to regulated cannabis growers, distributors, and suppliers across the United States.
Shares of PRRE surged from $0.27 at the July 31 close to $0.96 at the Aug. 31 close. Investors who bought and sold on those respective dates saw a total return of 255%.
The Best Pot Stocks: After months of research, we've found the most lucrative and fastest-growing legal pot stocks in America. And for a limited time, you can get all the details for free. Learn more...
While no major news fueled the stock's 255% gain last month, there were several major spikes in trading volume. Total volumes on Aug. 16 and Aug. 18 reached 26,800 and 26,600 shares, respectively. Those were higher than the stock's two-month (65 day) average volume of 24,200.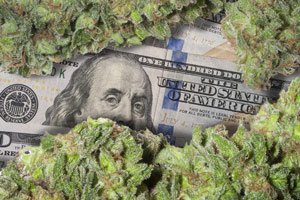 These spikes in volume - and therefore share price - are commonly associated with marijuana stocks like PRRE because they trade over the counter. These over-the-counter (OTC) markets aren't as strictly regulated as the Nasdaq or New York Stock Exchange (NYSE), which are monitored by the U.S. Securities and Exchange Commission (SEC).
But we don't recommend buying any of the pot stocks on the list above. They've already seen double- and triple-digit gains - here at Money Morning, we like to position you in front of a rally so you can make the most from your money.
That's why we're looking into profiting from the marijuana "bombshell" set to hit Canada next year...
In a brand-new interview, Money Morning Director of Technology & Venture Capital Research - and marijuana investing expert - Michael A. Robinson shares some great news about Canada's pot legalization.
It includes details on five tiny pot stocks that have the potential to turn a small stake into $100,000...
Here's your guide to the five best marijuana investments to make today...
This Is How You'll Profit from Marijuana Stocks and Canada's Legalization