(Kitco News) - World stock markets were mostly weaker overnight, on a bevy of concerns in the marketplace. The historically turbulent months of September and October for equities are starting out in just such a manner. A recent spate of weaker-than-expected economic data coming out of the U.S. and European Union have many thinking their central banks will back off on tightening their monetary policies any time soon.
Also, Hurricane Irma is bearing down on the Caribbean and later on this week is likely to hit Florida. Irma is the strongest hurricane in recorded history. And then there's the ongoing North Korea-U.S. crisis that appears to be getting worse. All of the above have stock market investors and traders in a risk-averse mood. U.S. stock indexes are pointed toward narrowly mixed openings when the New York day session begins.
Financial stocks around the world were under pressure from dovish comments from U.S. Federal Reserve Governor Lael Brainard, who said Tuesday the Fed should wait until annual inflation hits 2.0% before raising interest rates again.
Gold prices are near steady as the safe-haven metal pauses after scoring an 11-month high on Tuesday. Gold bulls are in firm technical control.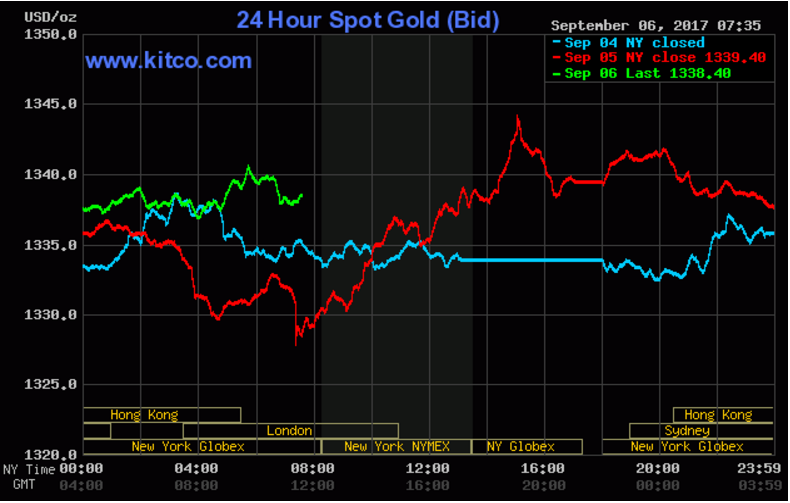 The major economic data point of the week is Thursday's European Central Bank monetary policy meeting, including a press conference from ECB President Mario Draghi after the meeting.
The key outside markets on Wednesday morning see the U.S. dollar index weaker and not far above the recent 15-month low. Meantime, Nymex crude oil futures are firmer.
U.S. economic data due for release Wednesday includes the weekly MBA mortgage applications survey, the weekly Johnson Redbook and Goldman Sachs retail sales reports, the international trade report, the U.S. services PMI, the global services PMI, the ISM non-manufacturing report on business, and the Federal Reserve's beige book.
By Jim Wyckoff, contributing to Kitco News; jwyckoff@kitco.com
Follow Jim Wyckoff @jimwyckoff for breaking news.