Investing in marijuana can yield massive returns. Already this year, we've seen gains as high as 990% from our best pot stock plays.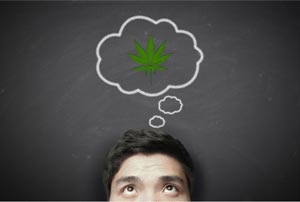 And as more states legalize, the profit opportunities for investors keep growing.
In fact, the marijuana industry is anticipated to be one of the fastest-growing industries in the American economy by 2021, according to the latest "Marijuana Business Factbook."
The Factbook projects sales from the legal marijuana industry will soar more than 200% over the next four years.
That's leaps and bounds higher than CNBC's projected growth of the Dow Jones Industrial Average (36.31%) over the same time.
But before you dive headfirst into investing in marijuana, there are a few things you need to consider…
Investing in Marijuana: Should I Invest in Pot Directly?
There are myriad ways to invest in the marijuana industry, and not all of them require you to invest in companies that handle marijuana directly.
While companies that grow, handle, and sell marijuana are popular (for good reason), these companies operate in an incredibly competitive environment and are subject to volatile swings.
That's why Money Morning Director of Technology & Venture Capital Research – and pot stock expert – Michael Robinson suggests "pick-and-shovel" plays in ancillary businesses.
Pick-and-shovel plays allow you to invest in companies that provide necessary equipment for an industry, rather than in the industry's end product.
And right now is the perfect time to own Michael's favorite pick-and-shovel play, Microsoft Corp. (Nasdaq: MSFT).
You see, Microsoft's cloud-based services are heavily marketed to key players in the marijuana sector, and it's beginning to pay off. Its Azure cloud service banked $6.7 billion in the most recent quarterly reports.
"While Microsoft has yet to match Amazon dollar for dollar in this fast-growing tech segment, its recent track record has gotten Wall Street's attention," Michael told readers on Aug. 5. "That means now is the time to 'Accumulate' a bigger position."
Investing in Marijuana: Should I Only Invest in U.S.-Based Marijuana Companies?
Cannabis investing is still speculative in the United States because marijuana remains illegal under federal law. However, Canada has a rapidly growing, federally legal marijuana market that could be the next big growth catalyst for marijuana stocks.
Special Report: Cannabis Is the Gold Rush of the 21st Century – 30 Stocks to Invest in Now. Details here…
Right now, only medical marijuana is legal in Canada. This presents some real problems for marijuana companies who have trouble finding financing or leasing store space.
But starting in 2018, Canadian cannabis companies (and investors) will be worry-free.
In fact, The Cannabist recently reported legal marijuana sales in Canada could reach $4.5 billion in 2021 after Canada legalizes marijuana. That's an increase of 400% from the roughly $900 million in sales in 2016.
For forward-thinking investors, Canada's legalization could create a seven-figure weed windfall by owning the top pot stocks in the country, like Canopy Growth Corp. (OTCMKTS: TWMJF). Canopy owns one of the largest marijuana-producing greenhouses in the world, and it just increased its patient list from 2,894 in 2015 to over 11,630 in 2016.
That's an increase of 301% in just one year. That's not a bad way to get in on this rapidly growing industry.
Investing in Marijuana: Is This Company Profitable?
As trendy and appealing as a new marijuana company might be, it may not actually produce revenue.
A lot of marijuana ventures, like Miss Iowa 2014's new "Paragon Coin" may sound interesting, but yield few actual results for investors.
You see, the trick to finding great companies – and we mean really great, rock-solid, long-term growth companies – is to identify companies with great operations.
"I think we will see a continued stream of people getting into the marijuana space. You need to be careful to avoid the fast-buck artists that are out there," says Michael. "You need to look for people who are seasoned in some investment space with some kind of track record. You're looking for solid managers with some kind of past track record of success."
Being able to spot the difference between great investments and fool's gold can be difficult – we get it.
That's why Michael created The Roadmap to Marijuana Millions, an exclusive, limited-time, 89-page guide for anyone interested in marijuana investing. In his guide are 30 of the absolute best cannabis companies to invest in right now. In fact, three of the largest gainers in the Roadmap have minted investors 164.38%, 251.38%, and even 300%.
Included in Michael's guide is all the information you need to make serious money investing in cannabis. And it's only available to Money Morning Members.
Reserve your copy today, right here.
For more marijuana industry updates, follow Money Morning on Twitter @moneymorning, Facebook, and LinkedIn.