The best defense stocks to buy now are even more important today because of the escalating threats in North Korea over the past weekend.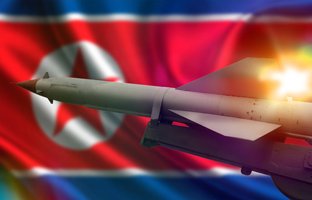 Last week, for the sixth time in the past 11 years, North Korea detonated a nuclear bomb in its underground test facility. Each test was progressively larger until the most recent, which had an estimated 120-kiloton yield. Compare that to the 15-kiloton bomb dropped on Hiroshima during World War II and the 20-kiloton bomb dropped on Nagasaki.
The blast was so powerful that geologists around the world detected a 6.0 earthquake near the test site. This is a startling turn of events, especially since North Korean dictator Kim Jong Un has already said he wants to put this monster on his newly developed long-range missiles.
That's why this is the best time to allocate money to the best defense stocks. The technology and systems created by these companies are in even higher demand thanks to the threats from North Korea. And for the right companies, the demand for their products and services can only increase.
Fittingly, Money Morning Chief Investment Strategist Keith Fitz-Gerald says that "war, terrorism, and ugliness" is one of his "Unstoppable Trends."
What Is an "Unstoppable Trend"?
According to Fitz-Gerald, the trick to making huge profits is to find "must-have" companies that fall into what Fitz-Gerald calls the six "Unstoppable Trends": medicine, technology, demographics, scarcity & allocation, energy, and war, terrorism & ugliness (also known as "defense"). The Unstoppable Trends are backed by trillions of dollars that Washington cannot derail, the Fed cannot meddle with, and Wall Street cannot hijack.
Unfortunately, "war, terrorism, and ugliness" is a growth industry, especially when faced with the current situation that, by its very definition, requires "strategic stability and continued deterrence."
Must See: This Great Depression-Era "Secret" Helped Transform Two Teachers into Millionaires. Read more...
That means we have to address the unfortunate profit potential just as we would any other Unstoppable Trend backed by trillions of dollars.
Rather than sell everything and hide in a bunker, now is the time to prepare. The key is finding the best defense stocks to buy now that will make money during times of extreme political upheaval.
Investing for war is never easy, but you should think of it as protecting your finances if the unthinkable happens. And even if a peaceful solution is found in North Korea, the need for defense stocks in a portfolio is not going to go away.
And these are the three top defense stocks we are recommending today...
The 3 Best Defense Stocks to Buy Now
[mmpazkzone name="in-story" network="9794" site="307044" id="137008" type="4"]
One of Fitz-Gerald's favorite defense plays is Raytheon Co. (NYSE: RTN), a leader in the industry with billions of dollars in contracts with the U.S. government and a diverse customer base across the world.
In fact, international customers make up nearly half of its business. That means even if a few countries cut defense spending during an economic downturn, RTN still has plenty of other customers to help it weather the storm.
Raytheon stock trades at about $180 per share with a dividend yield of 1.8%. It is up 27% this year and has been outperforming the market since 2012.
Another defense stock Fitz-Gerald likes is Kratos Defense & Security Solutions Inc. (Nasdaq: KTOS).
Kratos is a small contractor doing a lot of systems integration, drone work, and training in the very important "standoff warfare" area - meaning they can fight at a distance using technology to aid, prevent, or even avoid conflict in the first place. The latter is producing billions of dollars' worth of missile systems and weapons platforms sold around the world to governments trying to protect their citizens.
Not only does Fitz-Gerald think the company have long-term potential, but it could actually be ripe for a takeover, as well.
Money Morning Executive Editor Bill Patalon also has a favorite defense play. Lockheed Martin Corp. (NYSE: LMT), which is the prime contractor on THAAD, the Terminal High Altitude Area Defense ballistic missile defense system now deployed in South Korea. Basically, this is a "missile shield" that can intercept and destroy any missiles fired at the United States or its allies.
Back in June, the Pentagon's Missile Defense Agency told Congress it planned to deliver 52 more THAAD interceptors to the U.S. Army between October of this year and September of next year - bringing total deliveries since May 2011 to 210 systems, according to Reuters.
And as the North Korean threat escalates, demand could rise.
Lockheed Martin stock is up 21% this year with a 2.4% dividend yield. It has also outperformed the market since 2012.
North Korea Is "Fake News"... According to one of America's most highly decorated intelligence operatives, North Korean nukes are just a "deep state" cover story for something much more devastating. The Pentagon has been racing to funnel untold millions to a small $6 defense contractor with a mind-blowing new technology designed to stop this twisted plot dead in its tracks. It's straight from the pages of a science fiction novel. Read more...
Follow Money Morning on Twitter @moneymorning, Facebook, and LinkedIn.