The best defense stocks to buy now are even more important today because of the escalating threats in North Korea over the past weekend.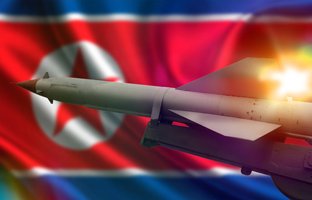 Last week, for the sixth time in the past 11 years, North Korea detonated a nuclear bomb in its underground test facility. Each test was progressively larger until the most recent, which had an estimated 120-kiloton yield. Compare that to the 15-kiloton bomb dropped on Hiroshima during World War II and the 20-kiloton bomb dropped on Nagasaki.
The blast was so powerful that geologists around the world detected a 6.0 earthquake near the test site. This is a startling turn of events, especially since North Korean dictator Kim Jong Un has already said he wants to put this monster on his newly developed long-range missiles.
That's why this is the best time to allocate money to the best defense stocks. The technology and systems created by these companies are in even higher demand thanks to the threats from North Korea. And for the right companies, the demand for their products and services can only increase.
Fittingly, Money Morning Chief Investment Strategist Keith Fitz-Gerald says that "war, terrorism, and ugliness" is one of his "Unstoppable Trends."
What Is an "Unstoppable Trend"?
According to Fitz-Gerald, the trick to making huge profits is to find "must-have" companies that fall into what Fitz-Gerald calls the six "Unstoppable Trends": medicine, technology, demographics, scarcity & allocation, energy, and war, terrorism & ugliness (also known as "defense"). The Unstoppable Trends are backed by trillions of dollars that Washington cannot derail, the Fed cannot meddle with, and Wall Street cannot hijack.
Unfortunately, "war, terrorism, and ugliness" is a growth industry, especially when faced with the current situation that, by its very definition, requires "strategic stability and continued deterrence."
Must See: This Great Depression-Era "Secret" Helped Transform Two Teachers into Millionaires. Read more...
That means we have to address the unfortunate profit potential just as we would any other Unstoppable Trend backed by trillions of dollars.
Rather than sell everything and hide in a bunker, now is the time to prepare. The key is finding the best defense stocks to buy now that will make money during times of extreme political upheaval.
Investing for war is never easy, but you should think of it as protecting your finances if the unthinkable happens. And even if a peaceful solution is found in North Korea, the need for defense stocks in a portfolio is not going to go away.
And these are the three top defense stocks we are recommending today...
The 3 Best Defense Stocks to Buy Now