If the federal government isn't ready for legal marijuana, the American people sure are.
The "federally illegal" marijuana industry is poised to employ half a million Americans by 2021. There will be more people selling, growing, modifying, and running experiments with marijuana than there will be telemarketers or even pharmacists.
According to Marijuana Business Daily, there are already between 165,000 and 230,000 Americans working in the cannabis industry. That's more than the number of people who clean our teeth or bake our bread.
But unlike those other industries, marijuana is just getting started.
And it's about to explode.
Check out this chart: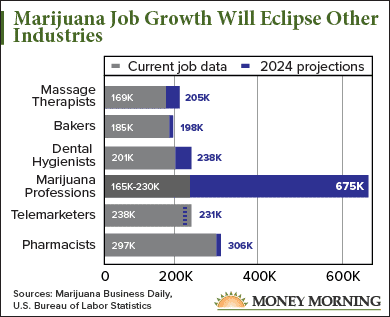 The U.S. Bureau of Labor Statistics (BLS) projects job growth or decline for every career on which it collects data. It predicts, for example, a 22% bump in massage therapists between 2014 and 2024, and a 3% decrease in telemarketers.
But none of the BLS projections come close to the growth we see in the marijuana industry.
Here's why we predict that America will be home to half a million cannabis-related jobs by 2021...
For Marijuana, Sales Growth Means Job Growth
Last week, we showed you Marijuana Business Daily projections that cannabis sales could increase by 180% from present-day levels by 2021.
Special Report: Cannabis Is the Gold Rush of the 21st Century - 30 Stocks to Invest in Now. Details here...
In most industries, that wouldn't necessarily correlate to a 180% increase in employment. For example, in the retail and grocery sectors, more sales often just mean longer lines. Or in restaurants, the part-time waitstaff may be called in to work more hours if sales are improving, but it's less common to increase the number of employees altogether.
The marijuana industry, however, is different.
In fewer than four months, California will start distributing recreational marijuana licenses to dispensaries across the state to service the Golden State's 39 million people.
But legal recreational dispensaries don't yet exist.
When the floodgates open, jobs will need to be created to meet the demand. Lots of jobs.
Emerging weed companies will need people to manage the business, keep inventory, man the counter, engage the community, act as liaisons to other industries, and attract tourism.
As more states legalize, it will be the same story over and over again.
And that's not even counting the states that have already legalized cannabis. Though states like Colorado and Oregon are "established" by current standards, marijuana is still a fledgling industry that has nowhere to grow but up. As marijuana works its way into mainstream American culture, the successful companies will grow, and so too will their employee numbers.
Suddenly, our 500,000 jobs estimate seems... low.
Of course, when looking at such a young and rapidly expanding industry, finding diamonds in the rough can be dizzying. Fortunately, Money Morning Director of Technology & Venture Capital Research Michael Robinson has done the hard work for you.
Life-Changing Profits: This investing strategy has racked up 30 triple-digit wins so far this year - and 46 in the last 12 months. To learn how to get in position for the next one, click here now...
He has created The Roadmap to Marijuana Millions, an exclusive, limited-time, 89-page guide for anyone interested in marijuana investing. In his guide are 30 of the absolute best cannabis companies to invest in right now. In fact, three of the largest gainers in the Roadmap have minted investors 164.38%, 251.38%, and even 300% gains.
Check it out...
How to Become a Pot Stock Millionaire
"There's tremendous momentum in the legal cannabis sector right now," says Michael. "The boom is crackling with excitement and flush with money, reminiscent of the old California Gold Rush."
"Call this the 'green rush,' where weed investors are pulling in profits hand over fist."
Michael is our renowned pot stock expert and one of our most prominent and respected investing "gurus" here at Money Map Press - and for good reason.
He is one of the top financial analysts working today. Make no mistake: Michael's ideas are completely his own.
He's been a board member for a Silicon Valley venture capital firm and a senior advisor to 12 high-tech startups.
He's also a Pulitzer Prize-nominated writer and reporter, lauded by the Columbia Journalism Review for his aggressive style.
His research is world class, too. The Oakland Tribune, Detroit News, The San Francisco Examiner, The Kansas City Times, Wealth Magazine, and American Banker have all published his reporting. He's even appeared on Larry King's syndicated radio show and is a regular guest on CNBC's "The Rundown" and FOX Business Network's "Cavuto: Coast to Coast."
And he's focused on a new, earth-shattering government announcement could completely change the legalization of marijuana - forever. In fact, thanks to this historic legislation, tiny pot stocks trading for under $5 are getting set to double, triple, or quadruple.
In an exclusive interview with Money Morning, Michael shares all the good news - including details on five tiny weed stocks that could potentially turn a small stake into $100,000. Click here to continue...
Follow Money Morning on Twitter @moneymorning, Facebook, and LinkedIn.