Natural gas prices are down 8% on the year, but investors can expect prices to rise again by the end of 2017. And that price climb could boost one of our favorite natural gas stocks by 75% in the next year...
In the short term, Hurricane Harvey wiped out part of the United States' gas and refinery system, which bumped gas prices slightly higher. Harvey made landfall on the Texas coast on Aug. 25 as a Category 4 hurricane. The damage from the storm, along with the unrelenting winds, rain, and flooding, cut natural gas production in Texas in half. That shock to the natural gas supply pushed prices up over 4% by Sept. 1.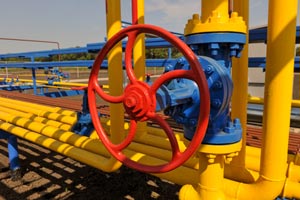 Now, Hurricane Irma is about to make landfall in Florida and could threaten even more natural gas facilities in the Gulf Coast, depending on its path.
But long-term trends will push natural gas prices even higher...
What Causes Natural Gas Prices to Rise?
The simple answer is that supply and demand dictate natural gas prices, but it can be more complicated than that. Supply and demand can shift thanks to "difficult-to-forecast" events.
Take the 2008 natural gas production boom, for instance.
Natural gas production exploded in 2008 as hydraulic fracturing - "fracking" - opened up shale gas plays that were previously unrecoverable. This led to an increase of natural gas production of about 50% since 2008. Since then, natural gas prices at the Henry Hub in Louisiana have been cut almost in half from where they were in 2008.
Energy Breakthrough: One gallon of this new "crystal fuel" could get you from New York to L.A. and back... seven times! Read more...
While fracking led to more gas production and lower prices, other factors affect the supply and price.
Hurricane Harvey hit the Gulf Coast of Texas, and that disrupted the natural gas pipeline and refineries in the region, bottling up supply. The Henry Hub, the United States' main hub for natural gas, is located in the Gulf Coast in Louisiana. The storm's disruption sent prices rising 8% over the following days.
And depending on its path, Hurricane Irma could similarly disrupt natural gas networks, too, especially if it shifts to the west and hits the Gulf Coast again.
But the demand side of the natural gas equation impacts prices, too.
Because people use natural gas to heat their homes in the winter, a particularly cold winter will demand more heat, and thus higher gas prices. But a warmer winter requires less heat, and with weaker demand, gas prices fall.
That's what happened last year. Gas prices plummeted 24%, from $3.68/MMBtu at the start of the year to $2.80/MMBtu by March 1.
Traders are expecting prices to rise this winter, however. Natural gas futures contracts for February 2018 are at $3.24/MMBtu, a 12% jump from today's price of $2.90/MMBtu.
But these are short-term factors affecting the price of gas, and they are largely unpredictable.
Fortunately, there are factors affecting natural gas prices that we can predict, and these factors mean prices are heading higher...
Natural Gas Prices Are Going Up
There are two long-term trends driving gas prices up. That's why Money Morning Global Energy Strategist Dr. Kent Moors says natural gas is in the early stages of "major expansion."
First, natural gas is replacing coal as the top source for electricity generation in the United States.
Natural gas production is up 45% over the last 10 years, while coal's production fell 37%. The cheaper price of natural gas, coupled with the ease of transporting it through pipelines, is making it a much more attractive fuel source than coal.
Natural gas is now the top source of electricity in the United States, making up 34% of electricity generation to coal's 30.4%. The disparity will grow even more as new power plants that run entirely on gas come online.
Second, natural gas is increasingly used for additional energy needs...
Natural gas is now a popular fuel for cars and industrial vehicles, fueling 15.2 million vehicles worldwide. And natural gas-powered vehicles will continue to grow. Investopedia forecasts sales of vehicles running on natural gas will soar 65% by 2023.
While cold winters or an unexpected disruption in supply will continue to boost gas prices in the short term, these long-term catalysts are reasons you can profitably invest your money. And to invest in higher natural gas prices, you need to look no farther than natural gas stocks.
As gas prices rise, the best natural gas stocks are poised to profit. Here's the best one to own now and why it could bring you a gain of over 75% in just a year...
Our Pick for the Best Natural Gas Stock to Own Now
[mmpazkzone name="in-story" network="9794" site="307044" id="137008" type="4"]
CONSOL Energy Inc. (NYSE: CNX) was primarily a coal company up until natural gas started to take over in 2008. But as natural gas replaced coal as the top source of electricity, CONSOL wisely shifted its company to gas.
Since 2016, natural gas has made up at least 51% of CONSOL's commodity earnings, and the company is operating as a natural gas company. CNX continues to sell off its coal assets to buy into even more natural gas production.
Moors says one of the biggest upsides for CNX is how it continues to sell off its "loss-making coal business" and investing in its natural gas business.
On June 27, CONSOL sold off its Virginia coal mine for $420 million.
CNX isn't just getting into the natural gas business; they are innovating, too. CONSOL is now exporting its natural gas to Europe, where gas prices are even higher.
"That means there's plenty of upside left for the company," Moors said.
Wall Street analysts are also bullish on CNX's growth potential. FBR Capital Markets & Co. is giving CNX a one-year price target of $25. That's a potential 76% gain from today's share price of $14.22.
Up Next: One gallon of this new "crystal fuel" could get you from New York to L.A. and back... seven times! Being hailed by many experts as energy's "Holy Grail," it's 1,693 times more powerful than the gasoline that runs your car. The mainstream investment media isn't even talking about it yet. Read more...
Follow Money Morning on Twitter @moneymorning, Facebook, and LinkedIn