The top penny stock of September 2017 so far is biotech firm Oncobiologics Inc. (Nasdaq: ONS). Shares are up from $0.87 at the close of Aug. 31 to $1.89 today (Sept. 11) - a 117.2% gain in just six sessions.
Here are the rest of the top 10 penny stocks of the month by performance...
| | | |
| --- | --- | --- |
| Penny Stock | Current Share Price | September 2017 Gain (as of Sept. 11) |
| Oncobiologics Inc. (Nasdaq: ONS) | $1.89 | +117.2% |
| FalconStor Software Inc. (Nasdaq: FALC) | $0.74 | +105.6% |
| ZAIS Group Holdings Inc. (Nasdaq: ZAIS) | $3.51 | +89.5% |
| Celsius Holdings Inc. (Nasdaq: CELH) | $6.55 | +66.2% |
| SAExploration Holdings Inc. (Nasdaq: SAEX) | $2.42 | +54.7% |
| NantHealth Inc. (Nasdaq: NH) | $4.11 | +48.4% |
| Eleven Biotherapeutics Inc. (Nasdaq: EBIO) | $1.60 | +48.1% |
| PAVmed Inc. (Nasdaq: PAVM) | $6.13 | +42.5% |
| Neovasc Inc. (Nasdaq: NVCN) | $1.12 | +41.8% |
| Marin Software Inc. (NYSE: MRIN) | $1.60 | +39.1% |
Oncobiologics produces biosimilars - which are drugs with active properties similar to FDA-approved drugs. Biosimilars contain ingredients already licensed by the FDA, meaning the FDA often approves biosimilars quicker than drugs with new, non-approved ingredients.
Oncobiologics' main product is a Humira biosimilar called ONS-3010. Humira treats arthritis and Crohn's disease, among several other illnesses.
Most of ONS stock's gains came last Friday, Sept. 8, when shares rocketed 124%. That's when the company agreed to sell $25 million worth of preferred stock to private investment firm GMS Tenshi Holdings Ltd. The massive purchase naturally spiked ONS stock to a four-month high of $2.02 on Friday.
Special Report: Cannabis Is the Gold Rush of the 21st Century - 30 Stocks to Invest in Now. Details here...
Despite ONS' 117.2% return in just one week, we're not recommending it as a penny stock to buy today. Our Money Morning experts are more interested in finding you stocks to buy that have gains ahead of them rather than behind them.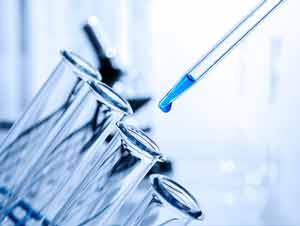 That's where Money Morning Small-Cap Specialist Sid Riggs comes in. He's recognized for giving our readers small-cap winners. His pick from December 2013 - Neurocrine Biosciences Inc. (Nasdaq: NBIX) - has handed readers a 520.2% return.
Today, Sid recommends a biotech company that has beaten earnings estimates for four straight quarters by an average of 54.7%. It's also the first company to sell a medical test that's the first of its kind sold over the counter. This gives the company a market edge over firms with a similar product that requires a doctor's prescription.
According to Sid, his recommendation's reputation for consistently surpassing estimates means Wall Street banks underestimate it. So this is the perfect time to buy shares before the big banks catch on.
Here's the best small-cap stock to buy in the biotech sector...
The Best Small-Cap Stock to Buy in the Biotech Sector