The prohibition of marijuana is deadly.
In fact, the federal government's war on legal marijuana is killing more Americans than drunk driving is.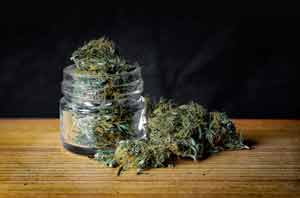 Yes, you read that right.
In fact, according to a new study published by the University of Indiana, the ban on marijuana causes as many premature deaths as drunk driving, murder, or even opioid overdose.
Put another way, legalizing marijuana nationwide could save thousands of American lives each year.
47,500 lives, to be exact.
The study found that cannabis use is associated with decreased rates of obesity, diabetes mellitus, use of alcohol and prescription drugs, and opioid overdose deaths – just to name a few.
Moreover, the study concluded that "adverse effects of moderate cannabis use on physical health are subtle and rarely fatal."
Contrary to what once was popular opinion, the true culprit for thousands of premature deaths each year isn't cannabis but cannabis prohibition, according to the study.
But for now – especially with U.S. Attorney General Jeff Sessions at the helm – cannabis remains federally illegal.
That means, in states without marijuana laws, thousands of people will continue to suffer, needlessly, every year.
However, in 28 states plus the District of Columbia (and counting), cannabis-based medicines are beginning to make a difference…
Legal Marijuana Is Already Saving Lives
"One American dies of a drug overdose every 11 minutes, and more than 2 million Americans are ensnared in addiction to prescription painkillers," said Jeff Sessions at a news conference on July 13. "We will continue to find, arrest, prosecute, convict, and incarcerate fraudsters and drug dealers wherever they are."
However, Sessions' efforts to bring the long arm of the law down on the illegal dealers and fraudulent prescribers won't completely solve the problem. No number of arrests will provide a safe way to relieve pain.
Special Report: Cannabis Is the Gold Rush of the 21st Century – 30 Stocks to Invest in Now. Details here…
So now, the medical marijuana community is stepping up to the plate.
"The developers of cannabis-based medicines are already positioning themselves to replace opioids," said Money Morning Director of Technology & Venture Capital Research – and renowned cannabis industry expert – Michael Robinson on June 28.
Video
Marijuana Businesses Are Teaming Up with This Billion-Dollar Industry
Michael's long been following the burgeoning medical marijuana industry, and he's come to the conclusion that we're at the beginning of a sea change in how we treat chronic pain, shifting from opioid-based medications to cannabis-based ones.
"Of course, we know that pain isn't going to magically go away, so something will have to take opioids' place," said Michael.
One of Michael's favorite marijuana biotechs – a true pioneer in this field – is poised to take advantage of Sessions' opioid crackdown. In fact, Michael recommended this company back in 2013, and Nova-X subscribers who invested in the company back then have enjoyed a 1,200% return on their investment.
Your Medical Marijuana Profit Play