The defense sector is one of the best places to look for those hoping to invest in dividend stocks. Today, we've narrowed down the list to bring you the three best dividend stocks to buy today in the defense sector.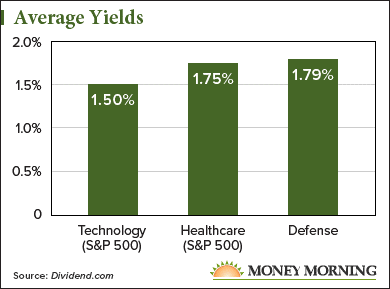 Defense companies often pay higher dividend yields compared to other popular stocks. On average, defense stocks boast a dividend yield of 1.79%.
Meanwhile, the 61 healthcare stocks in the S&P 500 – such as AbbVie Inc. (NYSE: ABBV) and Humana Inc. (NYSE: HUM) – offer an average yield of 1.75%.
S&P 500 tech stocks have an even lower average yield of just 1.5%. Big names like Facebook Inc. (Nasdaq: FB) and Amazon.com Inc. (Nasdaq: AMZN) don't even offer dividends to investors at all.
And defense stocks aren't just great investments because of their dividend yields. They also give you market-beating share-price growth.
Must See: This Great Depression-Era "Secret" Helped Transform Two Teachers into Millionaires. Read more…
The iShares Dow Jones Defense ETF (BATS: ITA) – which tracks 39 U.S. defense companies – has surged 20.7% so far in 2017. That beats both the Dow Jones and the S&P 500, which are up 11.9% and 11.4%, respectively.
But our Money Morning experts aren't recommending investing in that defense ETF.
Instead, they're going to show you three individual defense stocks that investors must add to their portfolios today…
The 3 Best Dividend Stocks to Buy in the Defense Sector Right Now