Healthcare spending is on track to make up nearly 20% of U.S. GDP by 2025, according to the U.S. Centers for Medicare & Medicaid Services (CMS).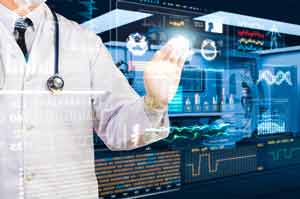 That's one of the reasons we expect the biotech stock we're showing you today to double in price by 2020.
Another catalyst for this top biotech stock is the aging baby boomer generation. There are currently 76.5 million baby boomers in the United States, and one of their biggest issues is coronary and vascular disease.
According to the U.S. Centers for Disease Control and Prevention (CDC), heart disease is already the leading cause of death for American adults. About 610,000 Americans die from heart disease each year. One in four deaths is attributed to the disease. In the United States, someone has a heart attack every 40 seconds.
The cost is great, too: upwards of $200 billion annually in healthcare services, medications, and lost productivity.
Must-See Video: The FDA just approved a miraculous "living drug." Watch this footage now to see it destroy the second-deadliest disease known to man...
That creates a gigantic opportunity for companies that can address this need and solve it. And that's exactly what the biotech stock we're about to show you is doing.
The company we're targeting today is a cutting-edge medtech firm with deep expertise with heart patients. It makes the world's smallest heart pump and has already saved tens of thousands of lives...
This Biotech Stock Could Double Your Money in Two Years
[mmpazkzone name="in-story" network="9794" site="307044" id="137008" type="4"]
Money Morning Director of Technology & Venture Capital Research Michael Robinson believes that Abiomed Inc. (Nasdaq: ABMD) is the right healthcare stock to buy at the right time.
In fact, his analysis indicates it could double in the next two years...
The heart pumps Abiomed develops are used for percutaneous coronary intervention (PCI, formerly known as angioplasty with stent) procedures. Using a long tube, doctors insert one of the pumps into a vein near the groin, and then run it up to the heart.
After that, the tiny motorized device begins to pump the blood properly. Surgeons use the device to stabilize patients after a heart attack or a high-risk procedure, such as open-heart surgery.
This gives the heart a chance to rest and recover while doctors continue helping the patient recuperate. It is only used for a few days before being removed.
There are many reasons to expect explosive gains in Abiomed's stock price, ranging from demographics to the company's well-run operations. As he does with every stock, Robinson put the company up against his five "filters" for finding great stocks.
And the results were extremely bullish...
Five Reasons Why ABMD Could Double Your Money by 2020
Rule No. 1: Great Companies Have Great Operations
ABMD management is doing a great job - it's just that simple. In just the past five years, they've steered the stock to 569% in shareholder returns. The firm boasts 22% operating margins and a 16% return on equity. It has nearly $251 million in cash on hand and almost no debt.
Rule No. 2: Separate the Signals from the Noise
The company is focused on results, not hype. Everything they do is geared toward improving the lives of heart patients. It is a soft-sell approach, and along with success stories, it creates word-of-mouth marketing among patients and their doctors.
The firm has the right products in place, making it immune to the politics of the moment. In June, 19 patients who used its products went to Congress to brief a panel on how Abiomed's pumps had saved their lives. You cannot buy that kind of publicity.
Rule No. 3: Ride the Unstoppable Trends
Abiomed is targeting a major trend that will last for at least the next 15 years: the aging of the U.S. baby boomers. And heart disease is on the rise along with obesity rates.
According to the CDC, heart disease and related conditions account for $1 out of every $6 spent on healthcare.
Rule No. 4: Focus on Growth
Companies with the strongest growth rates almost always offer the highest stock returns.
Over the past three years, Abiomed has grown sales an average of 38%. If that rate holds, sales will double again in less than two years. Even better, earnings per share (EPS) are growing nearly twice as fast.
Rule No. 5: Target Stocks That Can Double Your Money
If you are going to risk your money, demand the potential for a high return.
This is where we look at Abiomed's earnings growth to see how long it will take it to double profits. By doing that, we can figure out how long it will take for shares to roughly double.
Robinson went through the firm's financials in detail and projects that EPS will grow by an average 36% over the next three years. That's a very conservative estimate at about half the company's existing track record.
Divide the compound growth rate of 36 into the number 72. That results in a target of two years for Abiomed to offer 100% gains.
The Window on This Opportunity Is Closing Fast: The FDA just approved a revolutionary treatment with the potential to eradicate one of the deadliest diseases known to man. And thanks to a patented breakthrough, one tiny lab's actions could create a 128,866% revenue surge in just one year. To learn how to get in on potentially life-changing profits, click here now...
Follow Money Morning on Twitter @moneymorning, Facebook, and LinkedIn.