Litecoin prices surged 1,425% this year, and these meteoric gains are just the beginning for the cryptocurrency...
Check out the Litecoin chart below to see how the cryptocurrency's prices skyrocketed from $4.33 on Jan. 1, 2017, to its closing price of $66.04 on Sept. 11.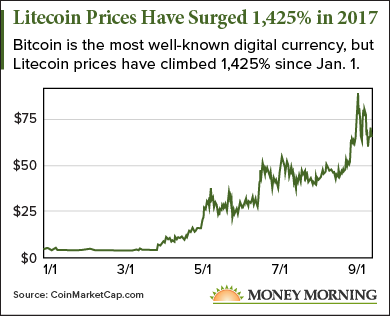 Litecoin's 1,425% gains more than quadrupled Bitcoin's 323% price growth this year. But if you didn't buy Litecoin, it's okay. One bold Litecoin price prediction projects the digital coin will trade for $200 by the end of 2017.
That's a 202.84% gain in just four months.
While we know what sent Litecoin prices soaring in 2017, a new possibility will boost Litecoin prices even higher by the end of the year...
Why Litecoin Prices Climbed 1,425% in 2017
There are two specific events that boosted Litecoin prices in 2017.
First, the digital currency exchange Coinbase allowed customers to buy Litecoin on May 3. Coinbase is one of the most well-known digital currency exchanges, with 10.2 million users.
Not only did this make Litecoin easier to buy, but it brought more awareness to the currency. Making Litecoin easier to buy on a major exchange increased its demand and its price. On May 3, Litecoin prices opened at $15.88 and climbed to $21.04 by the next day.
That's a 32% increase in just one day.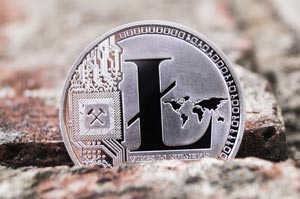 And it's not just U.S. exchanges increasing transactions...
Second, a buying frenzy from Asia helped boost prices.
On May 7, South Korea's largest digital currency exchange, Bithumb, offered Litecoin trading. According to CoinTelegraph.com, Litecoin daily trading volumes on the exchange skyrocketed from $80 million to $174 million on the day.
That's a 117.5% increase.
Since then, Asian exchanges have continued to see heavy trading volumes. Today (Sept. 13), one Asian exchange is accounting for 22.72% of all Litecoin transactions.
While these catalysts helped push Litecoin prices higher so far this year, there's another catalyst that could send it 200% higher by the end of the year...
Why Litecoin Prices Could Reach $200 by the End of the Year