As Uber becomes a household name and its valuation climbs past $70 billion, anxious investors want to know, "Where can I buy Uber stock?"
Right now, you can't buy shares of the ride-hailing app, because it's still a private company. However, we do know new CEO Dara Khosrowshahi said the Uber IPO could take place between 2019 and 2021.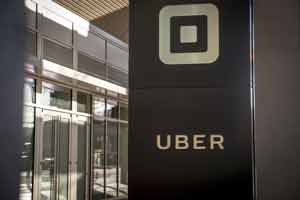 And when Uber does go public, retail investors can buy Uber stock through their brokerage account.
But we want Money Morning readers to be prepared for the IPO and to know whether it's a good idea to buy Uber stock.
And that starts with knowing more about Uber's new CEO…
New CEO Dara Khosrowshahi Prepares for the Uber IPO
Khosrowshahi's time frame for going public is much more aggressive than Travis Kalanick's, Uber's former CEO. According to a 2016 Business Insider report, Kalanick said Uber may go public between 2017 and 2026.
In comparison, Khosrowshahi believes Uber can go public in the next two to five years.
But in order for Uber to go public, the company will have to start turning a profit. According to an Aug. 30 CNBC report, Khosrowshahi told Uber's staff his priority is to "pay the bills."
And he still has a long way to go before that happens…
Last year, the company lost roughly $2.8 billion, and its financial losses have continued this year. In the first quarter of 2017, Uber lost $708 million. Uber did better in the second quarter, but still lost $645 million.
Video
Who Is the New Uber CEO?
That's an average financial drain of more than $676 million in the first half of 2017. If it continues, Uber may lose $2.7 billion in 2017.
While making Uber profitable might seem difficult, Khosrowshahi has a successful track record of running a company.
Leading Expedia Inc. (Nasdaq: EXPE) as the CEO since 2005, Khosrowshahi helped Expedia's market cap climb from $8.3 billion to $21.8 billion as of today. He's also known as a skilled dealmaker, overseeing the acquisitions of HomeAway Inc. ($3.9 billion), Travelocity.com LP ($280 million), and Orbitz Worldwide Inc. ($1.6 billion).
Uber's new CEO was also a trusted member of The New York Times Co. (NYSE: NYT) board of directors from 2015 until he announced his resignation on Sept. 10, 2017.  Khosrowshahi said he was resigning from the board to focus on running Uber.
Energy Breakthrough: One gallon of this new "crystal fuel" could get you from New York to L.A. and back… seven times! Read more…
But does Uber's new CEO mean you should buy Uber stock?
Here's what you need to know ahead of the Uber IPO date…
Waiting for the Uber IPO? Here's a Better Profit Play