President Donald Trump likes a weak dollar.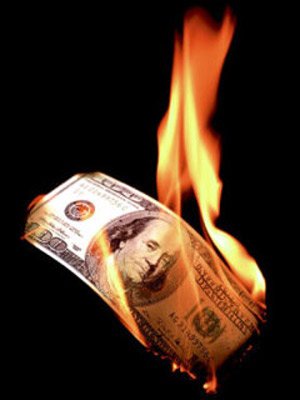 "I like a dollar that's not too strong," Trump said on Aug. 1. "I've seen strong dollars. And frankly, other than the fact that it sounds good, lots of bad things happen with a strong dollar."
A weak dollar helps stimulate manufacturing, limits imports, and maximizes exports, among other economic boons.
But China likes it, too.
That's because the dollar's nosedive this year has created the perfect conditions for China to gobble up U.S. debt.
The Red Dragon has increased its holdings of U.S. Treasury securities by over 9% since November, while the U.S. Dollar Index (DXY), which measures the value of the dollar against a basket of six major currencies, has fallen 9% over the same period.
And now that Trump has agreed to extend the U.S. debt limit to Dec. 15, China stands poised to increase its holdings even further.
In fact, as long as the dollar stays low, China could add another $100 billion of U.S. debt to its balance sheet.
It's done it before.
Here's how the weak dollar sends U.S. debt to China skyrocketing...
China Uses U.S. Debt to Support Its Currency
Unlike Western economies, which allow the value of their currencies to be determined entirely by market forces, China likes to have more control over its currency, the yuan.
This means that whenever the yuan's value spikes or drops outside of a 2% band, China will aggressively flood the market with yuan or take yuan out of circulation to regulate the value of the currency.
That's where U.S. debt comes in.
Must See: North Korea is "fake news" - this is where WWIII will start. Read more...
China has over a trillion dollars' worth of U.S. Treasury securities - the bills, notes, and bonds that make up U.S. debt. When the yuan is depreciating too quickly for China's liking, the People's Bank of China sells its Treasuries like crazy in exchange for U.S. dollars, which it then uses to buy yuan. This lowers the amount of yuan in circulation, raising its value.
And that's not a hypothetical; China has been fighting the depreciation of its currency for a couple of years now. As investors grow more pessimistic about China's economy, they have been selling their yuan and investing their capital elsewhere, in a process called "capital flight."
For the entirety of 2016, China was selling its stash of U.S. dollars and U.S. debt to buy up as much yuan as it could to keep the currency from plummeting. According to U.S. Treasury estimates, China unloaded $200 billion worth of U.S. debt in the second half of 2016.
But the weakening dollar has given China some reprieve... and an opportunity.
A Weak Dollar Means a Strong Yuan
When one currency gets weaker, other currencies become stronger by comparison.
Which means that the weakening dollar has given the yuan more buying power - without China having to sell the farm.
In other words, now that the dollar's weakness is propping up the yuan, China no longer has to do it. Instead of selling U.S. debt to save its currency, the country can go back to buying U.S. debt.
And it has.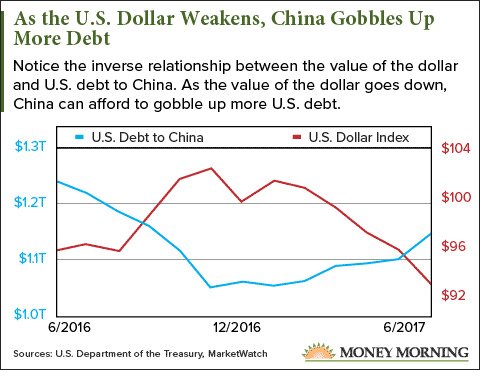 Since November, China has increased its holdings of U.S. Treasury securities by $97.2 billion, according to estimates released by the Treasury. It owns 18.6% of all foreign-held Treasuries and 5.7% of all U.S. debt. Just three years ago, it owned over 20% of all foreign-held Treasuries and over 7% of the national debt.
Don't be surprised if we see numbers like that from China again. And soon.
With a dovish Federal Reserve chair keeping interest rate hikes at a crawl and a president whose policy advocates a weak dollar, a weak dollar's likely exactly what we'll get for the foreseeable future. Just ask Money Morning Resource Specialist Peter Krauth.
"A weaker dollar makes U.S. exports more attractive in international markets, so don't expect a stronger dollar policy any time soon," Krauth said on Aug. 23.
"Trump is just getting started, and if he completes his four-year mandate, the dollar is likely to drop further."
Fortunately, we have a great option for readers looking to grow their wealth in this weak-dollar environment - one that's already up 37.4% year to date...
How to Play the Weak Dollar
China's not the only one that can benefit from a weak dollar. You can, too, if you know where to look.
"Precious metals are well-known, effective hedges against falling currencies," Peter says. "One of the best ways to play this sector is through royalty/streaming companies."
Osisko Gold Royalties Ltd. (NYSE: OR) is a stellar example of this play.
"As part of its more than 130 royalties and streams, Osisko holds five top-tier assets, including a 5% net smelter return on the Canadian Malartic, Canada's largest gold mine," Peter says.
Readers who bought OR three weeks ago have already seen 7.6% returns, but President Trump's weak-dollar policies mean that this company has a long way to run.
Enjoy the ride.
Urgent: A completely unique gold play is forming in the markets. And it's so rare that it's only the third time in 20 years that it's happened. If you get in now, you could see a share of upwards of $13 billion in cash windfalls. Read more.
Follow Money Morning on Twitter @moneymorning, Facebook, and LinkedIn.