Should a U.S.-China war break out in the South China Sea, Beijing will rely on an old Mao-era military tactic in its efforts to vanquish the United States.
The likelihood of such a conflict increases by the day...
That's because the United States continues to exert its military presence in the trade- and resource-rich South China Sea, despite China's insistence that nearly the entirety of the valuable maritime region belongs to it. China's claims, as a matter of fact, clash with those of six other nearby nations, such as Vietnam and Taiwan.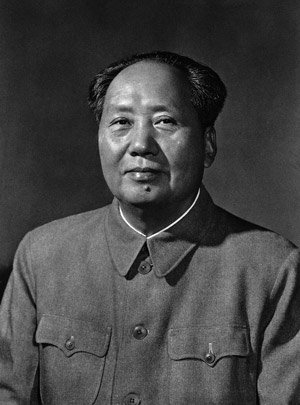 And to keep China from getting too comfortable with the idea that it owns the whole region, the Pentagon has been sending U.S. Navy ships by China's man-made islands, enraging the Red Dragon.
For example, on Sept. 1, the U.S. Department of Defense, for the first time under the Trump administration, announced that it had set up a schedule of regular "freedom of navigation" operations (FONOPs) in the South China Sea. The news signaled a shift in U.S. policy that had, until now, consisted of intermittent, often reactive naval operations in the disputed region.
China has long considered America's FONOPs provocative. And it has warned Uncle Sam numerous times that one possible consequence of carrying out such operations is war.
In fact, when the United States executed its first FONOP after the July 2016 Hague Tribunal decision that negated China's sovereignty claims in the South China Sea, Beijing told its citizens to get ready for battle...
Specifically, China's defense minister, General Chang Wanquan, implored the nation to ready itself for a "people's war at sea" in order to "safeguard sovereignty," reported Reuters on July 31, 2016.
To some of us in the West, this entreaty may have come across as mere rhetoric on China's part - a message invoking the country's communist ideology in a metaphorical call to arms.
But Chang's message actually contained a hint indicating China's strategy to win a war against the United States.
And it's one of the country's most successful modern military tactics...
"People's War" Tactics in Three Steps
The concept of "people's war" was originally created in 1949 by the founding father of the People's Republic of China, Mao Zedong.
It is a military strategy for conquering an enemy stronger than oneself. Here's what it looks like:
Chinese forces engage the enemy deep in the countryside or other difficult terrain, where soldiers from the People's Liberation Army (PLA) protract the conflict and fight strategic, "winnable" battles.
The PLA establishes base areas and spreads influence throughout the countryside, becoming the governing power and gaining popular support.
The PLA captures larger and larger targets as its strength grows.
China waged "people's war" in the 1930s and 1940s - first in a civil dispute between Communist and national parties, then as a collective against Japanese invaders. Eventually, China's Communist Party rose to power by waging and protracting its people's war, which led to Mao Zedong's rise to leadership over the People's Republic of China in 1949.
Must See: North Korea is "fake news" - this is where WWIII will start. Read more...
Now, China could be using the same tactics in the South China Sea. Here's how...
China Is Already Laying the Groundwork for Military Victory
The first step of the "people's army" strategy is to set up camp and engage the enemy on difficult terrain, in an area that you know better than they do.
That would be the South China Sea.
Just look at those mysterious artificial islands China's been building in the region since early last year...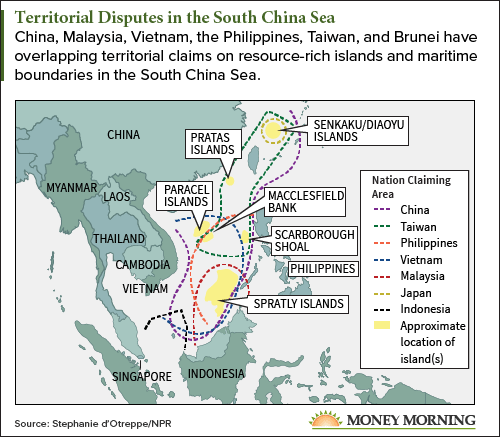 Images of the structures were released in a December 2016 report by the Asia Maritime Transparency Initiative (AMTI), which warned that they seemed to be military structures housing anti-aircraft guns, close-in weapons systems, bunkers, and ports.
In Chairman Mao's time, there would be guerrilla fighters lying in wait in the mountains. Now, there are man-made, militarized islands littered across the South China Sea.
Must See: The South China Sea is about to get violent. But thanks to a small $6 U.S. defense firm with a top-secret new technology, China is about to be taken to the woodshed. Read more...
The second step is to spread influence throughout said region, building power and attracting local support.
China's been doing that, too.
In recent months, China has been stripping the United States of allies in the South China Sea. These are the nations that make up the "nine-dash line" coalition that, not long ago, was challenging Beijing's sovereignty claims in the waters as territories of its own.
However, they're now fighting the Red Dragon with far less gumption these days - if at all.
For instance, when a flotilla of Chinese military vessels surrounded the Philippines' Sandy Cay on Aug. 16, Filipino President Rodrigo Duterte actually defended its presence - a complete 180-degree turn from the stance of his predecessor, former President Benigno Aquino III. According to Asia News Network, Duterte told concerned constituents that the vessels were fine because, though they appeared to be armed, they "were not claiming anything."
Meanwhile, China has been offering Manila a total of $24 billion in aid and investments, seemingly in exchange for its acquiescence in the South China Sea.
As for other ASEAN nations: "Malaysia, Indonesia, and Singapore have already 'knuckled' under Beijing's bullying," said Money Morning Executive Editor Bill Patalon on Aug. 16.
This sort of cowering and caving is just what the Red Dragon wants. It falls perfectly in line with the "people's war" strategy of establishing power and influence that, once accomplished, would make it easier for China to focus its efforts on removing the U.S. military's presence.
How the United States Is Fighting Back... and What You Can Do to Prepare
[mmpazkzone name="in-story" network="9794" site="307044" id="137008" type="4"]
The third step of the "people's war" strategy is to start capturing strategic targets.
Like U.S. ships, for example.
And as the powder keg in the South China Sea gets bigger and the fuse gets shorter, the likelihood of a FONOP triggering that third and final step grows greater and greater. In other words, America may soon find itself on the precipice of war with China.
That's why, time and again, Bill has recommended that his Private Briefing subscribers invest in the companies that will literally shield America from enemy weapons in the years ahead.
One such firm is Boeing Co. (NYSE: BA).
Boeing is responsible for the THAAD's Minuteman III intercontinental ballistic missile (ICBM), successfully test-fired in April. In fact, the company has a hand in most, if not all, of the military's defense projects, including the Ground-Based Midcourse Defense system as well.
When Bill first recommended Boeing, it was trading at $61.92.
Today, the aircraft manufacturer is trading at $244.14.
That's a 294% increase.
Bill also told his readers on Aug. 14 that "in general, Boeing sees 'strong and resilient' growth over the next 20 years."
That may have been an understatement...
Because back on June 20, Boeing raised its 20-year industry forecast for plane deliveries from 29,530 jetliners to 41,030, with their value at list prices topping $6 trillion for the first time ever.
Bill is full of prescient and winning stock picks just like these. In addition to up-to-the-minute analysis of the evolving situation in the South China Sea, Bill's Private Briefing subscribers receive investing insights, research, and extraordinary stocks every week.
What's more, Bill has recently found a $13 billion anomaly he calls the "Halley's Comet of investing." It's very rare, and fleeting, and Bill sees things lining up perfectly to bring some very sizeable profits to well-positioned investors. See how you can sign up for Private Briefing by clicking here...
Trump's Secret Weapon Against Chinese Aggression: Hostilities in the South China Sea now seem imminent, and the Trump administration could be on the verge of its first major crisis. But thanks to a small $6 U.S. defense firm with a top-secret new technology, China is about to be taken to the woodshed. Frankly, you have to see it to believe it...
Follow Money Morning on Facebook, Twitter, and LinkedIn.
Related Articles: