There won't be a SpaceX stock ticker until the company officially goes public, but there's still a way for investors looking for SpaceX stock to profit right now...
We'll only learn the stock ticker when the company files for an initial public offering (IPO) with the SEC, which could happen next spring at the very earliest. But there's a way to make money from the hype around the SpaceX IPO now, before the stock debuts on the market.
It's one of Money Morning Director of Technology & Venture Capital Research Michael A. Robinson's favorite investments.
This investment lets you profit from the frenzy around new IPOs, including the much-anticipated SpaceX IPO...
The Big Reason Why Investors Want to Know the SpaceX Stock Ticker
The hype surrounding SpaceX mainly stems from its massive valuation, which just grew to stunning $21.2 billion in July. That makes it the fourth-most-valuable private tech firm in the world.
Check out how the SpaceX valuation compares to other notable tech companies...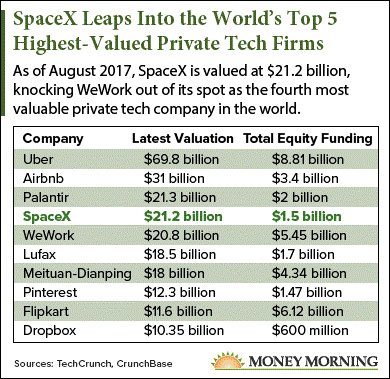 SpaceX's latest funding round was enough to push the company's valuation from the No. 10 spot into the top five.
In its Series H round, the company received $350 million in funding from "undisclosed investors." This boosted the valuation by 76.7%, from $12 billion to $21.2 billion - knocking WeWork's $20.8 billion valuation out of the No. 4 spot.
Although the valuation is now the fourth highest in the world, we don't know what SpaceX stock will cost until after the IPO. Investors will value shares of SpaceX stock based on the firm's ability to reuse rockets and launch broadband satellites - two initiatives that just started ramping up in March and May, respectively.
Energy Breakthrough: One gallon of this new "crystal fuel" could get you from New York to L.A. and back... seven times! Read more...
IPOs can be volatile - and therefore risky to buy - in the months following their public debut. That's because investors are still trying to appropriately value the company after it hits the market.
Facebook Inc. (Nasdaq: FB), for example, fell 44% during its first three months from May 2012 to August 2012. It's since rebounded 807%, from $19.05 in August 2012 to $172.78 today.
But Michael's investment recommendation limits the risk of buying stocks during their volatile phase and lets you profit as they grow into more established companies...
The recommendation is an exchange-traded fund (ETF) that can be bought and sold like a regular stock. But ETFs are different, because they let you hold a basket of different stocks at once. This can give you exposure to several areas of the market with just one investment.
His ETF pick today exposes you to both new IPOs and newly formed companies. This gives you exposure to new companies and IPOs, but the diversity of the fund limits the risk.
And this fund will eventually hold SpaceX stock once it goes public...
Invest in This ETF to Safely Profit from the SpaceX IPO
[mmpazkzone name="in-story" network="9794" site="307044" id="137008" type="4"]
The safest way to maximize gains and minimize risk once SpaceX stock starts trading is by investing in the First Trust U.S. Equity Opportunities ETF (NYSE Arca: FPX).
FPX is an exchange-traded fund (ETF) that holds both IPOs and newly public companies. These include hyped 2017 IPOs like Snap Inc. (NYSE: SNAP) and spin-offs like Kraft Heinz Co. (Nasdaq: KHC).
The fund holds new companies for a maximum of four years and caps them at only 10% of the fund's total weight.
According to the ETF's manager, this boosts the fund, since it benefits from the "unique return dynamics" of both IPOs and spin-offs.
Holding a diversity of new stocks allows FPX to level out the volatility associated with IPOs. For instance, if FPX just held Facebook Inc. (Nasdaq: FB) when it debuted on May 18, 2012, the fund would've declined 44% in Facebook's first three months.
But Facebook became more stable during its first four years and eventually grew into a well-established company. By May 18, 2016, FB stock was up 209.6% from the IPO date, to $117.65.
FPX is also great for investors looking to outperform the broader market. Shares of the fund are up 16.9% to $63.30 this year. That beats the S&P 500's 11.5% rise year to date.
The Bottom Line: The First Trust IPO ETF is a great way to make money from IPOs this year. It also offers investors interested in SpaceX exposure to the IPO when it happens - without the risk and volatility of buying in on the first day.
The Best Pot Stocks: After nine months of exhaustive research, we've found the best, most lucrative, and fastest-growing legal pot stocks in America. They're all in our 89-page "bible of weed investing," The Roadmap to Marijuana Millions. And for a limited time, you can get all the details for free. Go here to find out how to reserve your copy today...
Follow Money Morning on Twitter @moneymorning, Facebook, and LinkedIn.