A petition calling for the White House to label liberal billionaire George Soros a terrorist has garnered enough support to warrant a formal response from U.S. President Donald Trump's admin.
The petition was launched on Aug. 20 by someone using the online handle "E.B." on the White House's website. It needed 100,000 signatures by Sept. 19 to justify official acknowledgment, per the rules outlined on the White House's website.
As of today (Sept. 15) – four days ahead of the deadline – there are more than 146,000 names on the list… and counting.
What's in the Petition?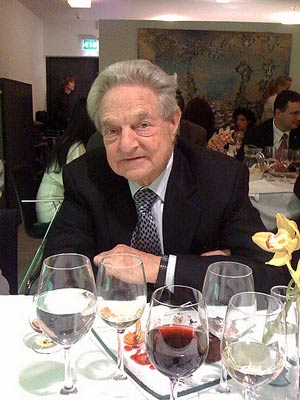 E.B.'s petition claims that, by financing groups that allegedly support violent counter-protest movements and other leftist organizations, George Soros uses his $25.2 billion net worth to foment enough civil discord to result in Uncle Sam's demolition.
As such, the U.S. government should label Soros a terrorist.
E.B. writes that Soros "has willfully and on an ongoing basis attempted to destabilize and otherwise commit acts of sedition against the United States and its citizens" by way of creating and funding "dozens (and probably hundreds) of discrete organizations whose sole purpose is to apply Alinsky model terrorist tactics to facilitate the collapse of the systems and Constitutional government."
That "Alinsky model" to which E.B. referred appertains to radical political ideas promoted by the late liberal activist and writer Saul David Alinsky. Alinsky once wrote that activists' jobs aren't to organize, but to disorganize "the establishment" (as in, government), so that it can be torn down and rebuilt democratically.
E.B.'s argument has some merit…
Do George Soros' Funding Habits Make Him a Terrorist?
We've taken a look at both sides of this debate. Here's what we've found:
George Soros Is a Terrorist: There is truth in E.B.'s charge that the Hungarian-born activist investor "facilitates the collapse of systems"…
For example, Soros' Open Society Foundation (OSF) gave Serbian students a multimillion-dollar grant in 1997. That money helped their once-decentralized, fractured coalition grow into the "revolutionary bulldozer" for which it later became known in 2000. In fact, the group grew strong enough to topple the country's then-communist regime on Oct. 5 of that year.
Urgent: An incredibly rare gold anomaly is shaping up in the markets as we speak – one that has occurred ONLY twice in the past 20 years. And it's about to happen again. Details here…
And in December 2003, Soros' Open Society Institute (OSI) made a bid to overthrow Georgia's government by spending "some $4 million on a protest movement against the president," according to The Melbourne Herald Sun on Dec. 5 of that year. Georgian Foreign Minister Salomé Zourabichvili admitted five years after the fact that, yes, Soros' OSI was "not only responsible for toppling [Georgia's government], but had subsequently become an integral part of the resulting governmental power structure" as well, Radio Islam reported in October 2010.
That last sentence presents direct evidence of E.B.'s Alinsky-model accusation.
To add to E.B.'s fodder, there have been numerous other instances throughout the past two decades during which Soros' money gave way to governmental change – too many to list (most of which you can find on OSI's website).
However, E.B.'s argument, that Soros' donation history is proof of his seditious intent, is a tough point to sell.
It's subjective, first of all. And secondly, the same argument can then be made against Soros' super-rich counterparts on the opposite end of the political spectrum. It's a slippery slope.
George Soros Is Not a Terrorist: The argument can also be made that Soros is acting well within his right to use his money how he chooses – in this case, supporting his political agenda.
Certainly, Soros isn't the only billionaire who uses his vast wealth to support political objectives. For example, look at the Koch brothers. The longtime libertarians donated roughly $19.2 million to groups – including notably antigovernment, counter status-quo conservative initiatives –  ahead of the 2010 midterms alone.
"By giving money to 'educate,' fund, and organize Tea Party protesters, [the Kochs] have helped turn their private agenda into a mass movement," The New Yorker reported on Aug. 30, 2010.
Up Next
Investing should be profitable – whether it's for your retirement, your children's college tuition, or for the eventual removal of a government you don't like. But the average market index fund may hit 8% a year… if it's lucky.
A 401(k) or IRA may do 7%… if you've got good management. The average hedge fund… well, they've been clobbered lately.
Meanwhile, one of Keith Fitz-Gerald's recent picks in his Money Map Report is beating the markets 16 to 1. It's up more than 22% since June 20.
It's just the latest winner from Keith, who regularly finds stocks set to rise on high-profit trends.
You can find out how to get that and all Keith's Money Map Report recommendations here.
Follow Money Morning on Twitter @moneymorning, Facebook, and LinkedIn.
Related Articles: