This time of year always puts me in a reflective mood.
Today, I'm thinking of a simple, crumpled sheet of yellow paper...
On it - scrawled in blue ink - is a hastily written note from wife to husband.
This simple note is one of the more interesting "artifacts" from 9/11.
And despite that simplicity, the note conveys a powerful lesson.
During the anniversary season of the Sept. 11, 2001, attacks on New York, Pennsylvania, and Washington - and in the continuing aftermath of the Harvey and Irma disasters - this lesson is one folks must take to heart.
To help make that happen, let me share the tale of this simple yellow note - and the message it has for investors everywhere...
When the Sky Falls, It Pays to Have a Plan
Sixteen years ago this week, Franklin and Daria "Chip" Gaillard were U.S. Air Force personnel assigned to the Pentagon.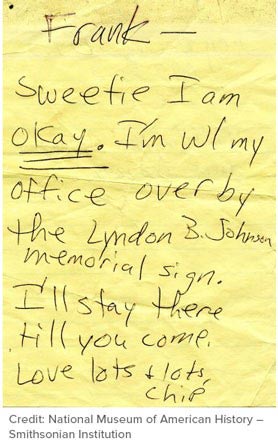 They were also quite prescient folks, as it turns out.
Frank and Chip worked in different parts of that sprawling center of U.S. national defense. So the Gaillards worked out a plan in advance: Should there ever be an emergency, they agreed to meet at their car in the Pentagon parking lot.
When terrorists struck on that September morning in 2001, Daria was the first to reach the couple's car. Wanting to keep her husband from worrying, she took out that piece of yellow paper and penned the note you see at left...
"Frank - Sweetie I am okay. I'm w/ my office over by the Lyndon B. Johnson Memorial Sign. I'll stay there till you come. Love lots & lots, Chip"
Frank found the note, then found his wife.
With that worry addressed, the couple turned their attention to others who needed help. The Pentagon's daycare center was evacuating nearby, so the Gaillards helped move all the kids to safer places.
This story jumped out at me when I read it for three very good reasons.

Join the conversation. Click here to jump to comments…
About the Author
Before he moved into the investment-research business in 2005, William (Bill) Patalon III spent 22 years as an award-winning financial reporter, columnist, and editor. Today he is the Executive Editor and Senior Research Analyst for Money Morning at Money Map Press.