The following list includes the 10 top penny stock gainers of September 2017, with every penny stock rising at least 67.4% so far this month.
And for investors looking ahead, we'll show you our latest small-cap stock pick right after the list. It's a data firm set to profit from the "cashless banking" industry, which could explode 716% into an $865 billion industry by 2021...
| | | |
| --- | --- | --- |
| Top Penny Stock | Current Share Price | September 2017 Return (as of Sept. 18) |
| Net Element International Inc. (Nasdaq: NETE) | $0.68 | +142.6% |
| Aldeyra Therapeutics Inc. (Nasdaq: ALDX) | $8.85 | +113.3% |
| ZAIS Group Holdings Inc. (Nasdaq: ZAIS) | $3.73 | +101.6% |
| CASI Pharmaceuticals Inc. (Nasdaq: CASI) | $1.83 | +90.6% |
| PAVmed Inc. (Nasdaq: PAVM) | $7.85 | +82.4% |
| Neovasc Inc. (Nasdaq: NVCN) | $1.41 | +78.5% |
| Oncobiologics Inc. (Nasdaq: ONS) | $1.50 | +72.4% |
| SAExploration Holdings Inc. (Nasdaq: SAEX) | $2.74 | +72.2% |
| Dimension Therapeutics Inc. (Nasdaq: DMTX) | $5.70 | +67.7% |
| Enphase Energy Inc. (Nasdaq: ENPH) | $1.54 | +67.4% |
The biggest penny stock gainer of September by return is Net Element International Inc., which processes mobile payments and other transactions. Shares of NETE stock are up 142.6%, from $0.27 at the close of Aug. 31 to $0.68 today. Those triple-digit gains came after the company announced it would stop charging fees on certain transactions.
Special Report: Cannabis Is the Gold Rush of the 21st Century - 30 Stocks to Invest in Now. Details here...
On Sept. 7, Net Element's subsidiary, Unified Payments, said it's launching a zero-fee program. This will let small- and medium-sized U.S. businesses use the firm's processing services for no charge.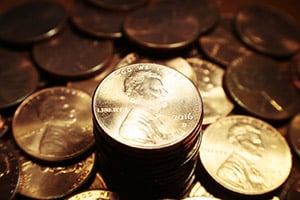 Unified's program - called "Zero Pay" - is the first and only "no-cost" processing program for mobile point-of-sale ("mPOS") transactions. After Unified Payments announced its no-cost program for mPOS devices, investors bought NETE stock in hopes the free program will bolster Net Element's customer growth.
But we don't recommend buying NETE stock. That's because NETE - and the other penny stocks on the list - have already brought in big returns (at least 67%), and we aren't expecting these stocks to go much higher. Here at Money Morning, we're more concerned with finding stocks with profit potential ahead of them, rather than behind them.
And we have one for our readers today...
Money Morning Small-Cap Specialist Sid Riggs recommends a stock poised to grow alongside the rapidly expanding mobile payment - or "cashless banking" - industry. This refers to more people starting to conduct transactions like check deposits on their phones rather than at their local bank.
Sid's data shows that cashless banking is growing at an incredible pace. In the next four years, the total market value for companies that make these transactions happen is expected to increase 716% to $865 billion.
Here's today's pick...
The Best Small-Cap Stock to Make Money from "Cashless Banking"