You can't get marijuana delivered in California by drones anytime soon, but we are still bullish on both the global drone market and the legal North American cannabis market.
You see, both of these growing industries could end up fueling each other, which will present an exciting new opportunity for investors...
By 2020, legal marijuana sales in North America are expected to climb from $6.7 billion in 2016 to over $20 billion, a 198% increase.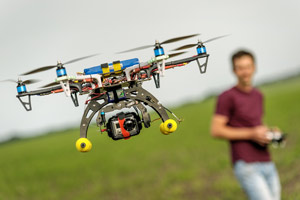 At the same time, market revenue for the global drone market will nearly double, as advisory firm Gartner projects revenue will climb from $6 billion in 2017 to $11.2 billion by 2020, an increase of 86.6%.
Marijuana businesses and drone manufacturers are licking their chops, but they won't be the only ones who can make long-term profits.
Marijuana sales are expected to climb from $6.7 billion to over $20 billion by 2020, which means there will be a lot of cannabis sold in the next three years. That means if drone deliveries are eventually approved, cannabis companies will help drone makers generate even more revenue.
And we have a way to profit from the connected growth of both industries with a play in the drone sector.
But first, here's the scoop on why California is banning drones from delivering marijuana as well as one expert's take on the issue...
Why California Is Banning Drones Delivering Marijuana
According to a Sept. 11, 2017, report on TheVerge.com, drones will not be allowed to deliver cannabis in California.
Investing in Drones Will Be Like Investing in Smartphones in 2009: If you've thought of drones in military terms or just as toys, this is a wake-up call. Find out more.
The report says marijuana must be transported inside commercial vehicles or trailers, and transportation by any other method, including everything from bicycles to drones, will not be allowed.
Now, it's not surprising drones are being regulated. There were roughly 700 pilot reports of drones interfering with landings, coming too close to airports, or clogging U.S. airspace, according to a 2015 Washington Post report.
But drones could be essential to the cannabis industry...
You see, delivering cannabis is a risky business. On Jan. 29, 2016, thieves in San Francisco stole a delivery driver's car and $8,000 worth of cannabis. With drones, that problem could be eliminated.
Through a camera, the drone operator will be able to scope out a location before it makes a delivery. If the operator sees anything suspicious, it could just fly the drone back to the company.
Also, depending on the location, the drone delivery could be much faster, leaving less time for would-be thieves to try and steal cannabis or money. Eaze, a marijuana delivery company in California, says it takes between 10 and 20 minutes to make a delivery.
The Guinness World record for drone speed is 163 miles per hour, which means a drone could eventually make a delivery in three to four minutes for a 10-mile trip at that speed. For a five-mile trip, it could be two minutes or less.
And because of all the benefits drones could provide to the marijuana industry, Derek Peterson believes it's important to keep an open mind.
Peterson is the CEO and founder of Terra Tech Corp. (OTCMKTS: TRTC), the largest publicly traded marijuana company in the United States.
"Innovations in drone technologies are quickly improving the efficiency and profitability of a range of industries, and for the sake of the cannabis space's health, it's important that we look into their potential without preconceived notions or judgments," Peterson said.
While drones delivering marijuana are illegal now, there are still companies testing the technology for when it is legal. In April, Eaze demonstrated a marijuana drone delivery at the High Times Cannabis Cup in San Bernardino.
As you can see in the accompanying video, the drone was able to deliver marijuana to an attendee of the Cannabis Cup with pinpoint accuracy.
Video
Marijuana Drone Delivery
And as we mentioned earlier, the growth of the booming cannabis industry is going to be a major catalyst for drone stocks.
In fact, the opportunity in the drone market now is beyond anything Money Morning Executive Editor Bill Patalon could have imagined...
Financial Guru Bill Patalon Just Uncovered Your Next Profit Opportunity