(Kitco News) – Global stock markets were mostly weaker overnight. U.S. stock indexes are pointed toward narrowly mixed openings when the New York day session begins.
Traders and investors worldwide are a bit cautious ahead of the U.S. Federal Reserve's monetary policy meeting.
Gold prices are slightly higher in pre-U.S. day session trading, on some tepid short covering following recent selling pressure that pushed prices to a three-week low on Monday.
The markets' highlight of the week is the Federal Reserve's Open Market Committee (FOMC) meeting that begins Tuesday morning and ends Wednesday afternoon with a statement. No interest rate changes are expected from the FOMC at this meeting. However, it is expected the Fed will announce it is drawing down its balance sheet of securities. Fed Chair Janet Yellen will hold a press conference after the FOMC meeting ends. Also, the Federal Reserve will release inflation projections that will be closely scrutinized.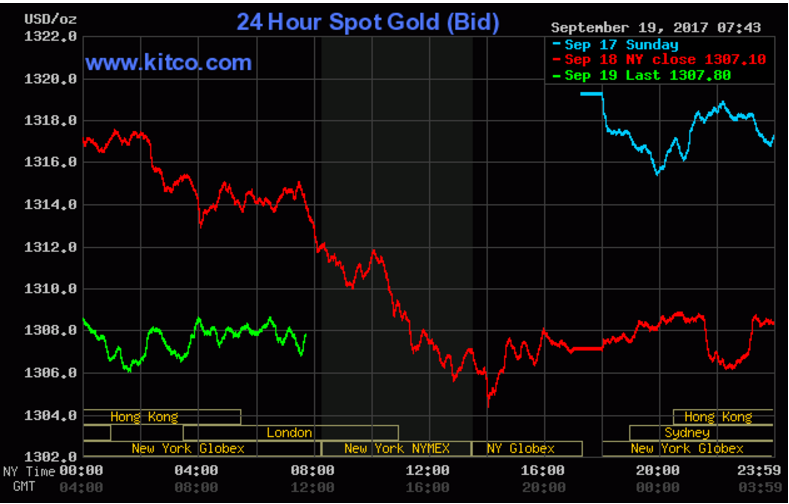 President Trump speaks in front of the United Nations in New York Tuesday. It's expected that Trump will talk about North Korea's missile program.
In overnight news, the German ZEW economic expectations index came in at 87.9 in September from 86.7 in August.
The key outside markets on Tuesday morning see the U.S. dollar index weaker.
The greenback bears remain in firm technical control. Meantime, Nymex crude oil futures are trading firmer this morning. The oil bulls have the slight near-term technical advantage.
U.S. economic data due for release Tuesday includes the weekly Goldman Sachs and Johnson Redbook retail sales reports, import and export prices, and new residential construction.
By Jim Wyckoff, contributing to Kitco News; jwyckoff@kitco.com
Follow Jim Wyckoff @jimwyckoff for breaking news.