California state lawmakers are trying to change the way cannabis is perceived by both consumers and the long arm of the law.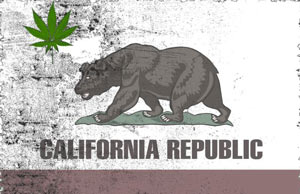 Tuesday (Sept. 18), the California state legislature voted on a joint resolution urging the federal government to reclassify marijuana.
"The Legislature urges the Congress of the United States to pass a law to reschedule marijuana or cannabis and its derivatives from a Schedule I drug to an alternative schedule, therefore allowing the legal research and development of marijuana or cannabis for medical use," reads a joint resolution approved by the California Assembly on Tuesday. The vote was approved 60 to 10.
Because the measure was passed as a joint resolution, it requires no signature by California Governor Jerry Brown before it is forwarded to President Donald Trump, Vice President Mike Pence, House Speaker Paul Ryan (R-WI), and Senate Majority Leader Mitch McConnell (R-KY). California's two U.S. senators and all 53 of its House representatives will also receive copies of the bill.
In other words, California just threw down the gauntlet on behalf of the marijuana industry.
You see, while over 28 states have legalized it in some form, marijuana is still federally illegal. This legal disconnect raises a number of issues for state legislators, business owners, and cannabis industry stakeholders.
But California's newest bill is aiming to change that – starting with reclassification. Here's how it's planning to do it – and what this could mean for the budding marijuana industry…
Marijuana's Schedule I Classification Is Unnecessary
Marijuana is currently in the most restrictive drug category according to the Controlled Substance Act – Schedule I.
Cannabis sits in the same category as heroin, yet cocaine and methamphetamine are placed in the less restrictive Schedule II category.
Reclassifying marijuana would make it easier for researchers to work with the plant, which is currently subject to strict limitations.
The resolution also calls for changing federal law to allow for "the legal commerce of marijuana or cannabis so that businesses dealing with marijuana or cannabis can use traditional banks or financial institutions for their banking needs, which would result in providing a legal vehicle for those businesses to pay their taxes."
Currently, marijuana businesses have trouble securing financing from banks because of marijuana's federally illegal status. This "impedes local and state government from adequately monitoring true marijuana or cannabis," according to the measure. Moreover, this costs state and local governments "millions of dollars in lost tax income."
Don't Miss Out: For marijuana industry updates in real time, sign up for Profit Alerts here.
And of course, more marijuana businesses operating above board would mean more profit potential for investors.
This movement by the California State Congress is a huge blow to U.S. Attorney General Jeff Sessions, who has long been a staunch opponent of legal marijuana in any form.
To be clear, rescheduling marijuana won't automatically ease federal criminal penalties or make marijuana 100% legal.
It will, however, put a huge amount of pressure on Sessions to back down. According to attorney and drug policy reformer Luke Zimmerman, Esq., "If the DEA reschedules cannabis, it would send a powerful message to law enforcement and the courts in many of the more conservative municipalities, and that could result in more clemency and broader policy reform."
Not only would the rescheduling of cannabis make life easier for marijuana businesses and researchers, but it would also affect law enforcement and spur future progress.
So if this resolution passes, there's no doubt the marijuana industry will react…
Weed Investors: Get Ready
Here's the real game changer…
If marijuana is reclassified into a higher-number tier or removed from the list of controlled substances entirely, the implications for the nationwide legal marijuana industry will be massive.
You see, if pot is rescheduled, it could open up the industry to import-export and help increase the potential for a nationwide, regulated market.
In other words, it could advance marijuana into the mainstream economy.
Marijuana investing is already being called the "'Green Rush,' where weed investors are pulling in profits hand over fist," said Money Morning Director of Technology & Venture Capital Research Michael Robinson.
As more bills like this are created to fight for marijuana, the rush is only going to get stronger.
"We're talking about a market likely to top $35 billion in three years," said Michael. "The next wave for this industry will be an exciting, profitable ride."
Indeed, we've already seen marijuana stocks climb 8,875%, 13,900%, and even higher in a matter of months or even weeks. You could profit from these kinds of gains.
That is, if you know how to separate the buds from the duds.
This time last year, Michael published his first "weed investors' bible." At the time, it was packed with 30 of his absolute favorite plays in the still-booming legal cannabis sector.
Over the past year, this section of the Nova-X Report portfolio has seen 10 double-digit winners and eight triple-digit winners… 291% gains… 193.3%… 189.5%; one recommendation even saw peak gains of 1,588%.
Since then, weed investing's only gotten bigger, better, and more profitable – and we're just at the beginning.
Michael wants to make sure Money Morning Members know how to get the latest recommendations and research in his updated Roadmap to Marijuana Millions. He's expecting 2018's profits to top this year's biggest gains, so it'll be released shortly. Click here to learn how to get your copy now.
Follow Money Morning on Twitter @moneymorning, Facebook, and LinkedIn.