On Sept. 15, 2017, Litecoin creator Charlie Lee appeared on "The Twenty Minute VC" podcast and weighed in on everything from the ICO market to what he hopes for the future of Litecoin.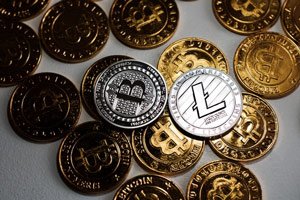 This is a must-listen-to podcast for anyone interested in cryptocurrencies.
It was so good that we decided to pull five of Lee's best quotes to share with Money Morning readers.
And one of his most important quotes was about the future of the initial coin offering (ICO) market...
 Charlie Lee on ICOs
"I fear that there's going to be a huge crash in the whole ICO market, sometime soon."
Through ICOs, companies can raise funds while bypassing the roadblocks associated with IPOs, including securities laws and costly underwriters.
In exchange for Bitcoin or Ethereum, investors will receive a newly created digital coin from the firm. The coin can be used in exchange for the company's services, and buyers hope the new cryptocurrency they received will rise in value if the projects are successful.
Now, because ICOs aren't regulated and they aren't promising shares in the company or any tangible asset, ICOs can be more speculative than a traditional IPO. In other words, coin buyers are taking risks that the coin's price will jump without receiving anything in return. That sort of speculation could create a bubble that will eventually pop.
Some are even calling ICOs the "Wild West" of investing, and China announced in September that they are banning them.
Charlie Lee on the Biggest Misconceptions About Cryptocurrency
"People think you have to buy one whole Bitcoin or one whole Litecoin. People didn't realize you can actually buy a small portion of a Bitcoin."
When investing in stocks, you have to buy one whole share. For an investor who wants to own one share of Amazon.com Inc. (Nasdaq: AMZN) today, they would have to pay $973.21. Gold coins can be bought in increments of 1/10 oz, 1/4 oz, 1/2 oz, or a full ounce, but that still limits your investment options.
Video
Top 5 Cryptocurrencies to Invest in Today
One Bitcoin costs $3,880.93, and one Litecoin costs $51.75, but you don't have to buy a whole Bitcoin or a whole Litecoin. According to digital currency exchange Coinbase, you can purchase as little as $1.00 worth of Bitcoin or Ethereum.
And Lee said people believing they have to buy a full Bitcoin or Litecoin is one of the biggest misconceptions about the digital currency market right now.
That means you can invest only the amount you want to, instead of needing to pay for an entire coin at once, which could be costly.
What Charlie Lee Believes That Others Don't Believe
"I believe that cryptocurrency will take over fiat currency and become the reserve currency."
Some may scoff, but Lee believes a digital currency could eventually become the world's reserve currency.
And there are two big reasons to believe a digital currency could take over as the reserve currency...
First, inflation is constantly weakening the value of the dollar, the world's current reserve currency.  According to TheBalance.com, a person with just $4.26 in 1915 could buy the same amount of food, clothes, and other necessities that $100 would buy today.
If inflation increases at the same rate over the next 100 years, it may cost $2,000 or more to buy the same amount of food, clothes, and other necessities in 2117 that you were able to buy for $100 in 2017.
You see, the Fed can print more money to try and pay off debt or stimulate the economy. As more dollars enter circulation, prices will rise. That means you'll eventually need more dollars to purchase the same products as in the past.
But Bitcoin doesn't have this problem. There is a finite amount of Bitcoin - pegged at 21 million coins - that can't be expanded. Bitcoin is worth what people are willing to pay for it, and its value can't be manipulated.
Second, the dollar is under threat from countries who believe its role as reserve currency gives the United States too much power.
China is actively trying to replace the U.S. dollar as the world's reserve currency.
"The desirable goal of reforming the international monetary system, therefore, is to create an international reserve currency that is disconnected from individual nations," China's central bank Governor Zhou Xiaochuan said in a 2009 speech at the Council of Foreign Relations.
Special Report: Cannabis Is the Gold Rush of the 21st Century - 30 Stocks to Invest in Now. Details here...
Bitcoin, Ethereum, or Litecoin could be the disconnected currency China is hoping for.
Charlie Lee's Vision for Litecoin
"My vision is people would use Litecoin every day to buy things. It would just be the payment method of choice."
Litecoin can handle a higher volume of transactions, making it more suitable for as a payment. Litecoin can generate a block in 2.5 minutes, while it takes Bitcoin about 10 minutes. The faster time will make it more attractive for everyday purchases.
It could be used more for payments, while Bitcoin could be used as a storage of value, like gold.
So far, Lee's prediction hasn't come to fruition. Outside of a few smaller companies and operations, there aren't any large merchants that accept Litecoin.
But as digital currencies become more mainstream, that could change.
What Charlie Lee Thinks Will Take Crypto to the Next Level
"Being able to securely store it and still have easy access to your money is the holy grail of crypto. Once we solve that, then it could take over."
Digital currencies are becoming easier to buy for mainstream investors, but storing and spending them isn't as convenient as using a credit card.
Digital currency can be stored in a "hot wallet," which is an online address users can use to hold their digital currencies in. However, because the wallet is connected to the Internet, some users want more security.
Digital currencies can be transferred to a "cold wallet," which is a storage device not connected to the Internet. Online hackers can't get into it, but you also can't easily access your digital currencies.
Lee believes that digital currencies will become mainstream when security and easy spending access are combined.
Get on the Path to Greater Wealth: When it comes to making money in the market, "getting in" early - before a stock begins to make its decisive move - is the single biggest factor to your success as an investor. Quickly buying Apple after the June 2013 sell-off, for instance, could have doubled your money. Moving on Valeant the same day we recommended our big "negative bet" against it would've booked you a remarkably fast 700% return. That's why we've introduced Money Morning Profit Alerts. This new, free service lets you choose what investing areas you want to follow - and makes sure you get alerted to news from that sector as soon as we publish it. It means no more waiting. No more searching. No more missing out. It's easy to get started - just go here. 
Follow Money Morning on Facebook, Twitter, and LinkedIn.