The value of "cashless banking" transactions is expected to grow 716% by 2022, and we're giving you the best stock to buy in the industry so you can capitalize on that massive growth potential…
"Cashless banking" is an emerging sector of the financial industry that lets you use your mobile devices to make payments and other financial transactions.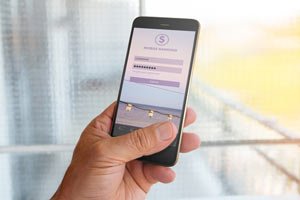 The value of mobile transactions around the world is expected to grow to over $865 billion by 2022. That's a 716% increase from the current value of around $106 billion.
Money Morning Small-Cap Specialist Sid Riggs says this growth will come from mobile banking's obvious convenience over driving to your local bank.
"Trips to brick-and-mortar locations are going the way of the Dodo bird," Sid said.
Cashless banking allows users to "simply use their mobile device to take a photo of a check and upload it straight to the bank, rather than having to trudge to the branch, find parking, and wait in line."
And the company we're recommending today plays a safety role in ensuring people will keep making these mobile transactions…
Profit from the Cashless Banking Industry with Today's Stock Pick
Our stock pick is a company that protects mobile banking transactions from hackers, which is essential to maintaining the public's trust in the cashless banking industry.
Hacking has become more prominent lately, following the back-to-back Equifax and SEC hacks. On Sept. 7, credit-reporting agency Equifax Inc. said hackers compromised the personal information of 143 million Americans – nearly half of the U.S. population. And just yesterday, the U.S. SEC said hackers breached one of its electronic systems used for storing financial filings.
Urgent: Feds use obscure loophole to threaten retirees. If you have a 401(k), IRA, or any type of retirement account, this could cause you to miss out on $68,870 or more. Learn more…
The number of data breaches in general has been rising in recent years, too. The Identity Theft Resource Center reported U.S. companies and government agencies suffered 1,093 breaches in 2016 – up 40% from 2015. This came despite an 8.1% increase in global cybersecurity spending over the same period, according to researcher IDC.
Hackers will undoubtedly try to target cashless banking as the number of mobile transactions increases. According to Sid's research, nearly 2 billion people – or 26.7% of the world's population – will be using their mobile devices for banking transactions by 2019.
That could add up to 285.7 million transactions a day if every one of those people makes just one transaction a week.
"That's a whole heckuva lot of opportunities for hackers to intercept your banking information as it travels through 'secure' networks," Sid said.
But the company we're about to recommend offers the encryption and protection that keep those millions of transactions safe. Sid says it's the best stock to own as mobile banking explodes over the next five years.
And some analysts are projecting the stock will grow more than 77% in just a year…
The Best Stock to Buy Right Now in the "Cashless Banking" Industry