Con artists are currently raking in fat cash with the "grandparents scam" - to the tune of $10,000 a day.
They do it by calling older Americans and pretending to be a grandchild in trouble who needs their help.
And lots of money.
These fraudsters literally capitalize on emotions.
Here's how the scam works - and how you can avoid falling prey to it...
How the Grandparents Scam Works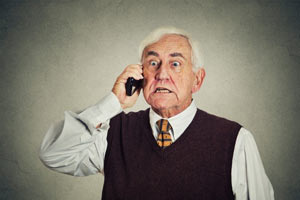 The grandparents scam is a form of telephone fraud. The FBI first started reporting it in 2008.
The scammer calls a grandparent posing as a grandchild in distress and asks that funds be wired to a specified location for their use.
Scammers typically have already harvested the information they need from the Internet. Facebook is a favorite source of information because the fraudsters can glean what they need to know about the grandchild they're pretending to be and the grandparent they intend to swindle.
The scammers often claim they need quick cash because of an accident, an injury, a theft, or an arrest.
If the latter excuse is chosen, sometimes the caller claims to be a police officer who is with the grandchild instead.
Either way, the scammers' end goal is to coax money out of a vulnerable person in a situation fraught with emotion.
The callers often follow scripts similar to this:
"Hi, [Grandma/Grandpa]. I'm in a little bit of trouble right now. If I tell you, just keep it between us, I got into a little accident, and I was arrested for a DUI. Things got out of control, and I need you to send me money so I can get out of jail."
Now, scammers might have excuses at the ready for why they sound strange or different to the person on the other end of the line; they may claim they have a broken nose, for example, or that they're sick.
Frank Abagnale, Jr., infamous imposter/swindler of "Catch Me If You Can" fame, told The Wall Street Journal today (Sept. 22), "You wouldn't believe how many millions of grandparents fall for that, until you explain the scam to them."
Urgent: An $80 billion cover-up? Feds use obscure loophole to threaten retirees… Read more…
Indeed, most of these frauds have only been recognized in hindsight - after the grandparents have agreed to wire money to the scammers via Western Union or Money Gram (instant cash transfer services accessible at most convenient stores).
In 2014, a CBS News feature report on the scam revealed that some of the most practiced fraudsters make up to $10,000 a day - even though only one in 50 calls actually work.
Former Assistant U.S. Attorney Ellyn Lindsey told the media site that these incidents often go unreported.
"The effect on the victims is so great. It's not simply the loss of the money. They feel stupid, they fell gullible, and they have nightmares about it and anxiety and depression," she said.
The familial component makes even the shrewdest of people blind to the ploy.
"We've had doctors and lawyers fall for this," Doug Shadel from AARP said, according to CBS. "It doesn't matter what your educational level is because it triggers something emotional, it causes you to act."
So how can grandparents protect themselves from this con?
Never Wire Money Without Taking These Steps First
AARP recommends staying calm and hanging up to consult other family members before taking action.
Sometimes, asking someone on the other line for information like an address or a phone number can deter the scammers.
And some families have gone so far as to set up a family password, such as the name of a pet, which can be used for verification of the caller's identity.
The bottom line is: Protect your hard-earned money - no matter what - and especially if you're in your "golden years." The last thing you want is to have those funds swindled away in the blink of an eye.
Protecting your finances is half the battle. The other half is building them up. Here's how...
Easy Steps to Lock In a Comfortable Retirement
Money Morning Chief Investment Strategist Keith Fitz-Gerald has written an entire report for his readers on saving and making money so that you can retire comfortably at 60 years old...
Keith's report reveals a wealth of tax tips and tricks you can use to maximize the value of your retirement account.
The report includes long-term steps you can take, such as:
Taking advantage of underused retirement benefits
Saving thousands of dollars over a decade with a debt-elimination plan
It also includes tips such as:
How to harness an extra $6,500 tax-free over the age of 50
How to reduce your tax burden
Keith's full report, How to Retire at 60: An Action Plan to Make the Most of Your Golden Years, can be accessed by clicking right here. The report has everything you need to get started on a comfortable retirement, no matter how old you are. It's really never too late...
Up Next: Keith has been researching even more aggressive income potential, too. He's found a special class of investments he calls "26(f) programs," which give investors the opportunity to tap into huge monthly income - $2,000... $5,000... or more - every month for the rest of their lives. Click here to learn how it works...
Follow Money Morning on Facebook, Twitter, and LinkedIn.
Related Articles: