Uber plans to go public between 2019 and 2021, but some don't want to invest in the transportation disruptor because of its many scandals. That's why investors who want to own shares in a ride-hailing company but don't want to own Uber stock are asking us, "How do I invest in Lyft?"
Unfortunately, Lyft is not a publicly traded company yet, so you can't own shares of the transportation disruptor just yet.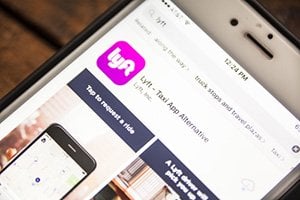 But if Lyft wants to raise more money to fend off its biggest competitor, there could be a Lyft IPO in 2018…
What to Know Ahead of the Inevitable Lyft IPO
To create an account with Lyft, a passenger downloads the Lyft app onto their smartphone. They are then prompted to enter their phone number and payment information. When the information is entered, they can then request a ride through the app.
The passenger chooses their destination, and the driver will be paid based on the length of the trip.
At the end of the trip, the passenger can tip their driver through the Lyft app.
How to Retire at 60: Your Action Plan to Make the Most of Your Golden Years
And now that you know more about how Lyft works, here's what you need to know about Lyft's biggest obstacle ahead of its inevitable IPO…
Uber Is Lyft's Biggest Competition
Uber is Lyft's biggest competitor and the most well-known U.S. ride-hailing app.
Lyft is still growing its business despite the competition. The company went from 53.3 million completed rides in 2015 to 162.6 million completed rides in 2016, a 136% increase in just one year.
However, Uber is still vastly ahead of Lyft in its amount of completed rides. We don't have totals for all of 2016, but in just December 2016, Uber completed 78 million rides.
Lyft only operates within the United States, while Uber operates in 570 cities around the globe. That's part of the reason why Uber has a $70 billion valuation, while Lyft is only valued at $7.5 billion.
But while Lyft may be a smaller operation, retail investors may find it a more appealing investment than Uber because Lyft is not engulfed in scandals. Over the past year, Uber has dealt with accusations ranging from theft to creating a company culture that endorses sexual harassment.
Energy Breakthrough: One gallon of this new "crystal fuel" could get you from New York to L.A. and back… seven times! Read more…
So, is Lyft a better investment than Uber?
Before buying Lyft stock on the Lyft IPO date, this is everything you need to know…
Should I Buy Lyft Stock?