(Kitco News) – World stock markets  were mostly weaker overnight, as some risk aversion is back in the marketplace following Monday's latest salvo from North Korea, in which the isolated nation said the U.S. had declared war on it. North Korea also said it had the right to shoot down U.S. warplanes outside of its air space. U.S. stock indexes are pointed toward narrowly mixed openings when the New York day session begins.
However, traders and investors are getting somewhat desensitized to the war of words between the U.S. and North Korea.
Gold prices s are moderately lower in pre-U.S.-day-session trading, on a corrective pullback from good gains posted Monday. A stronger U.S. dollar so far this week is also a negative for the precious metals markets. Safe-haven demand will likely continue to at least limit the downside in the gold market.
Focus this week is also on central banker speeches. Federal Reserve Chair Janet Yellen delivers a speech Tuesday and Vice Chair Stanley Fischer talks Thursday. Other Federal Reserve officials will also give speeches throughout the week.
The key outside markets on Tuesday morning see the U.S. dollar index higher and hitting a four-week high overnight. Greenback bulls are starting out the week in strong fashion. Meantime, Nymex crude oil futures are modestly lower this morning after hitting a four-month high overnight. The oil bulls have the near-term technical advantage.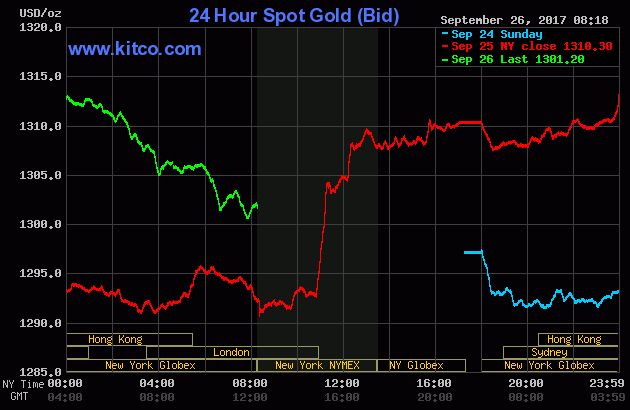 U.S. economic data due for release Tuesday includes the weekly Goldman Sachs and Johnson Redbook retail sales reports, the S&P/Case-Shiller home price index, the consumer confidence index, new residential sales, and the Richmond Fed business survey.
By Jim Wyckoff, contributing to Kitco News; jwyckoff@kitco.com