Commercial drone sales could more than quadruple between 2016 and 2020, which means the best time to profit from the drone craze is right now.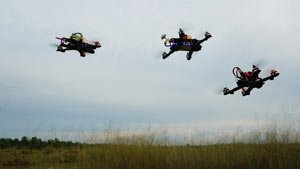 The U.S. Federal Aviation Administration (FAA) expects drone sales for commercial use to surge 350%, from 600,000 in 2016 to 2.7 million by 2020. On top of that, all drone sales are expected to nearly triple in the same time, jumping from 2.5 million in 2016 to 7 million in 2020.
This is great news for drone makers - but it's also creating your next profit opportunity...
Increased Drone Sales Can Line Your Pockets
According to the FAA, 2017 will be a turning point in how businesses use drones for three key reasons. Businesses adopting drones is one of the reasons the drone industry could create $127 billion in new wealth...
First, drones help businesses improve safety.
For example, 2,432 construction workers were fatally electrocuted between 1992 and 2010. But deaths from electrocution on job sites could decline thanks to companies like General Electric Co. (NYSE: GE) using drones to inspect power lines.
GE is currently deploying drones to take pictures of vegetation close to transmission towers or tall trees that pose a threat to power lines, according to Fortune. Using drones for these inspections means fewer workers going into harm's way.
Second, drones can help businesses cut expenses.
Drones can save construction companies billions. U.S. construction spending totaled $1.13 trillion in 2016, but building-related waste could have added up to more than $160 billion in losses last year, according to Fortune.
Drones can help project managers schedule the right amount of construction materials for delivery by providing up-to-date images of supplies at a site. The UK Green Building Council estimates 15% of materials delivered to construction sites ends up in landfills because of mismanaged scheduling and purchasing.
Third, businesses can run more efficiently with drones.
Because of the speed and accuracy of drone imaging, construction and energy companies could also save hundreds of hours of time. Camera technology company TrueLook says drones can cut down the surveying time of a 12-acre property from 100 hours to just two.
Businesses should be excited about the future of drones, and so should Money Morning readers...
And this is beyond anything Money Morning Executive Editor Bill Patalon could have imagined...
Financial Guru Bill Patalon Just Uncovered Your Next Profit Opportunity