Although the metal fell 4.1% last week – the steepest weekly drop in two months – my silver price forecast through the rest of the year remains bullish. I don't think silver prices will stay below $17 for long – in fact, I predict a 29.4% rebound before 2018.
Silver took a particularly hard hit on Friday, Sept. 22, as prices fell below the $17 mark for the first time since Aug. 24. That day, the metal fell 0.2% to settle at $16.98.
But that didn't last more than a couple of sessions, with silver prices jumping back above $17 yesterday (Monday, Sept. 25).
Even more impressive is how silver shot back above $17 even as the U.S. dollar recuperated against other major currencies. The U.S. Dollar Index (DXY) – which measures the dollar against the euro, yen, and other currencies – climbed from 92.17 to 92.66 yesterday, while the price of silver added 1% to $17.15. A rising dollar is usually bearish for silver since the metal is priced in the dollar, making it more expensive to users of other currencies.
Urgent: Executive Editor Bill Patalon just saw something on his precious metals charts he's only seen twice in 20 years. He calls it the "Halley's Comet of investing" – and it could lead to windfall profits. Read more…
Does this mean silver's rout is over? I'm not yet convinced, since the dollar likely has more near-term bounce left in it.
If that turns out to be the case, I expect the silver price to face temporary pressure. That's why I've said silver's near-term performance is likely to be dictated by the greenback, and it's why we need to keep a close eye on the dollar's next move.
But I forecast silver's correction will only continue for a few more weeks. Then the metal could see a strong 29.4% gain through the rest of 2017. I'll explain why I'm so bullish in a moment.
First, let's take a closer look at the 4.1% drop in silver prices last week…
Silver Price Declines 4.1% Last Week (Sept. 15-22)
After closing at $17.70 on Friday, Sept. 15, silver fell sharply on Monday, Sept. 18. It dropped to $17.15 by mid-morning and hovered just above that level throughout the rest of the day. The price of silver closed at $17.16 for a 3.05% loss.
Silver began Sept. 19 on a strong note as the dollar started feeling pressure. The DXY hovered just below 92 and eventually closed the session down at 91.83. This lifted silver prices to $17.28 for a 0.7% gain on the day.
But the dollar saw a monster rebound on Wednesday, surging above 92.50 during the session…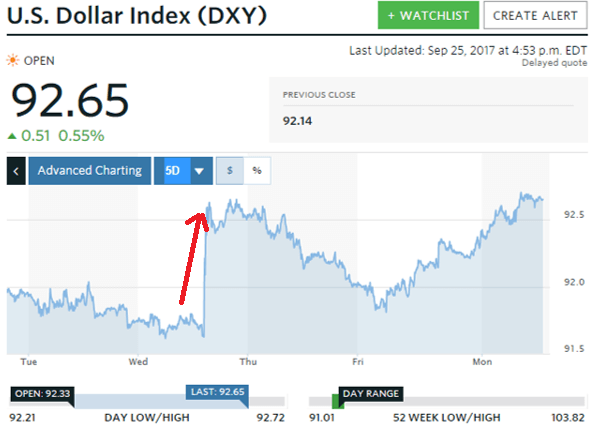 Of course, that's when the latest U.S. Federal Reserve statement was released. Fed Chair Janet Yellen announced the process of unwinding the central bank's $4.5 trillion balance sheet would start next month. The Fed will do this by not renewing Treasury bonds and mortgage securities each month.
While a spike in the dollar typically drags the silver price lower, the metal actually ended Wednesday with a gain. It closed the day at $17.33 – up 0.3% from Tuesday's close.
Despite a pullback in the dollar on Thursday, there was follow-through silver selling. The metal dropped to $16.92 at the open and managed to recuperate to $17.02 by the close. But that still marked a 1.8% loss on the day.
On Friday, Sept. 22, a rebounding DXY dragged the price of silver back down to $16.94 by the open. It eventually settled at $16.98 for the lowest close since Aug. 24. With that, silver prices posted a 4.1% weekly decline.
Yesterday, North Korea was back in the news and lifted the price of silver back above $17. At the UN General Assembly, North Korean Foreign Minister Ri Yong Ho said one of Trump's weekend tweets was a "declaration of war." The tweet involved Trump saying North Korea "won't be around much longer."
Investors poured money into silver on the news, which pushed silver prices 1% higher on the day. They reached $17.15 by the end of the day.
But the silver price today (Tuesday, Sept. 26) is testing the $17 level again. It's down 0.8% and trading at $17 flat.
With the dollar gaining 0.3% last week, it's clear the greenback is what's keeping silver lower these days. It was only a matter of time until the DXY finally bottomed out, and it's since gained 2% since bottoming at a two-and-a-half-year low of 91.35 on Sept. 8.
As I said above, the dollar could still have some bullish momentum left, which could drag silver lower in the near term. However, I don't see this lasting longer than the next few weeks. After that, a double-digit silver price rally will be in store for investors.
Here's why I see silver rebounding 29.4% before the start of 2018…
This Is What's Fueling My Bullish Silver Price Forecast
Join the conversation. Click here to jump to comments…
About the Author
Peter Krauth is the Resource Specialist for Money Map Press and has contributed some of the most popular and highly regarded investing articles on Money Morning. Peter is headquartered in resource-rich Canada, but he travels around the world to dig up the very best profit opportunity, whether it's in gold, silver, oil, coal, or even potash.