Finding the best marijuana stocks to watch isn't easy with all the choices out there. Marijuanastocks.com lists 96 securities right now, and that number is sure to soar as legalization legislations continue to pass in the United States.
That's why we're bringing Money Morning readers three pot stocks to put on your radar for October 2017.
Now, these aren't firm recommendations.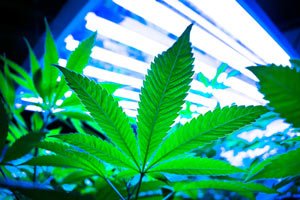 Most pot stocks are penny stocks, which are notoriously volatile. Cannabis is also still illegal under federal law, making these speculative investments.
However, we want our readers to know which marijuana penny stocks bear watching in October because of their long-term profit potential.
And the first one on our list for October is Hemp Inc. (OTCMKTS: HEMP)...
Marijuana Stocks to Watch in October, No. 3: Hemp Inc.
On Sept. 21, 2017, Hemp Inc. announced it entered into an agreement with One Step Vending Corp., a self-serve vending specialist.
Special Report: Cannabis Is the Gold Rush of the 21st Century - 30 Stocks to Invest in Now. Details here...  
Per the agreement, Hemp Inc. will create a unique, hemp oil-based consumer product for One Step to sell through its existing micro markets and kiosks across the country.
Hemp Inc. CEO Bruce Perlowin said the partnership could lead to "huge economic opportunities" for his company and One Step Vending, according to MarijuanaStocks.com.
And Perlowin is spot on about the profit opportunity...
You see, hemp is used to make cannabidiol (CBD) oils, which are being researched because of their potential anti-inflammatory and medicinal uses.
The CBD market is expected to grow from $202 million in 2015 to $2.1 billion by 2020, according to market intelligence firm Hemp Business Journal.
That's a 939% increase in just five years.
Video
Marijuana Businesses Are Teaming Up with This Billion-Dollar Company
Of course, the Hemp stock price is still very volatile. Over the last 52 weeks, it has traded as low as $0.01 and as high as $0.06. Today, it opened at just $0.02 per share.
But as the company makes more deals that could increase revenue, owning shares of HEMP could be profitable in the long term for patient shareholders.
Now, as promised, here are the two other marijuana penny stocks on our watch list for October...
[mmpazkzone name="in-story" network="9794" site="307044" id="137008" type="4"]
Marijuana Stocks to Watch in October, No. 2: Terra Tech Corp.
According to a Sept. 15 report from The Cannabist, Terra Tech Corp. (OTCMKTS: TRTC) purchased a dispensary in Santa Ana, Calif., for $7 million.
It plans to rebrand the shop as one of its Blum dispensaries and is looking at further expansion in the area.
CEO Derek Peterson told The Cannabist he could buy the vacant space next door and turn it into a corporate training campus, and he also sees the new location being a "flagship location."
The company has one Blum dispensary in Oakland, four in Nevada, and it plans to open another California dispensary "soon."
And because of how Peterson is expanding, Terra Tech could become the "Starbucks of cannabis."
"The reason Starbucks can charge what they charge per cup of coffee is because they've built brand recognition. There's consumer adherence because of the lifestyle," Peterson told MarijuanaVenture.com.
Each of his locations is supposed to have the same feel and experience for every customer, leading to brand loyalty.
And as legal cannabis sales skyrocket, from $6.7 billion in North America in 2016 to an expected $20 billion by 2020, Peterson's strategy could make Terra Tech's Blum dispensaries the go-to dispensary for cannabis enthusiasts.
In the short term, this acquisition could increase the demand for TRTC stock, helping the stock price move in October.
But just like with other marijuana penny stocks, the TRTC stock price has been volatile, trading for a low of $0.14 and a high of $0.56 in the last 52 weeks.
Today, it opened at $0.20 per share.
Marijuana Stocks to Watch in October, No. 1: Scotts Miracle-Gro Co.
Scotts Miracle-Gro Co. (NYSE: SMG) is known for being a leader in lawn care and gardening since 1868, but it's also expanding to the marijuana industry...
When the economy was growing in the early 2000s, retailers like Home Depot Inc. (NYSE: HD) and Wal-Mart Stores Inc. (NYSE: WMT) were expanding their locations. Because each store carries Scotts' products, Scotts' revenue climbed 80% between 2001 and 2009.
But after the financial crisis of 2008 and 2009, Wal-Mart and Home Depot stopped expanding and shut down stores.
That left Scotts' revenue stagnant.
So in order to boost sales, CEO Jim Hagedorn made what some consider a controversial decision: He invested in the marijuana industry.
In 2015, Hagedorn purchased two companies that specialize in soil and fertilizer for cannabis growers. In July 2016, he also invested a 75% stake in Gavita International, a hydroponics equipment company.
And it appears Hagedorn's forward-thinking decision is paying off...
As of December 2016, Scotts' hydroponics business generated roughly $250 million annually, according to Bloomberg.
And why we're watching Scotts in October is because it just sold its Australian and European businesses at the end of August to become the "world's most successful hydroponic gardening business." It sold its overseas businesses to Exponent Private Equity LLP for $250 million.
With the sale and fresh infusion of cash, Scotts can now dedicate more of its money to growing its hydroponic ventures.
We will update Money Morning readers about any acquisitions or new product releases over the next month before Q3 earnings are announced on Nov. 17.
Weed Investors: Get Ready
Marijuana investing is already being called the "Green Rush," where "weed investors are pulling in profits hand over fist," said Money Morning Director of Technology & Venture Capital Research Michael Robinson.
"We're talking about a market likely to top $35 billion in three years," said Michael. "The next wave for this industry will be an exciting, profitable ride."
Indeed, we've already seen marijuana stocks climb 8,875%, 13,900%, and even higher in a matter of months or even weeks. You could profit from these kinds of gains.
The Best Pot Stocks: After nine months of exhaustive research, we've found the best, most lucrative, and fastest-growing legal pot stocks in America. They're all in our 89-page "bible of weed investing," The Roadmap to Marijuana Millions. And for a limited time, you can get all the details for free. Go here to find out how to reserve your copy today...