If the Iran nuclear deal fails, U.S. companies will suffer never-before-seen security breaches thanks to Tehran's "hacker army."
This particular cyber militia has been honing its skills and expanding since 2013. That's when then-Iranian President Hassan Rouhani increased the country's cybersecurity spending 12-fold, Business Insider reported in 2015. Rouhani allocated roughly $19.8 million to the Islamic Revolutionary Guard Corps (Tehran's military) to up its cyber capabilities.
While Iran's hacking efforts were initially focused on countering internal dissidence at the time, as the cyber army's proficiency grew, so did its virtual fishing net. It has since begun targeting crucial infrastructure in rival country Saudi Arabia, which has seen countless attacks from Iran over the past three years.
Now, Tehran's hacker army has reason to set its sights on the United States: Uncle Sam's potential withdrawal from the 2015 nuclear deal that freed up roughly $100 billion in frozen Iranian assets.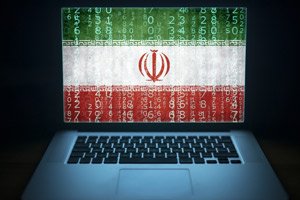 U.S. President Donald Trump abhors this deal.
He touted a U.S. exit from the pact at the UN General Assembly on Sept. 19, claiming the treaty is an "embarrassment" and "one of the worst and most one-sided transactions the United States has ever entered into."
Although the president has since said that he is seeking to enact tougher terms instead of scrapping the plan altogether, Iran isn't exactly comforted.
And Iran's cyber terrorists are already practicing their handiwork across the globe in preparation...
The Possible Aftermath of an Iran Nuclear Deal Disruption
On Sept. 20, Tehran's digital prowess was highlighted when online security firm FireEye exposed a massive cyber espionage campaign carried out by hackers in Iran.
The hackers had been actively targeting Saudi Arabian (again) and South Korean firms in the following sectors and subsectors:
Aviation
Petrochemicals
Oil refining
Military/defense
They did so, according to FireEye, in an effort to injure the nation's big corporate enemies and to punish them for making bilateral oil deals with one another.
"The targeting of organizations in the aerospace and energy sectors indicates that the threat group is likely in search of strategic intelligence capable of benefitting a government or military sponsor," FireEye explained.
Basically, FireEye experts confirm that the Iranian government is behind (or, at least, benefitting from) these efforts.
And proof of the damage the Internet militia can inflict is staggering...
Its hack on Saudi oil refineries, for example, unleashed computer-crippling malware that hit tens of thousands of PCs across the Middle East. It was carried out - in layman's terms - with a "dropper" file placed ("dropped") onto one business PC. When opened, that file disseminated malware throughout the entire firm. But it didn't stop there. The malware then spread like a virus to the computers of said firm's affiliates and subsidiaries, before rippling out even further to disrupt innocent members of the public's online activities and home computer systems.
As far as Iran's cyber breach in South Korea is concerned, the hacker army mostly carried out specific revenge maneuvers meant to incapacitate Asian firms associated with the Saudis. The virus the army installed on the southern peninsula jumbled up companies' network software.
Now that Iran's hacker army could soon have reason to turn its gaze towards America, it will look to U.S. businesses first.
Iranian Hacker Armies Could Take Down These Multibillion-Dollar U.S. Firms
Here are just a handful of companies you could expect to see targeted (and Iran wouldn't need to target many, considering how quickly its hackers' malware spreads):
These four corporations listed above all have massive market caps in the double-digit billions, and each one has beaten the S&P 500 average this year as well.
So we're not suggesting you sell everything and stuff your money in your mattress.
But any serious attempt to change the terms of the Iran nuclear deal could seriously affect these companies, thanks to an Iranian cyberattack.
That's because these firms, were they to be successfully hacked, would suffer immediately in the aftermath.
Must See: The Defense Industry Is a Gold Mine - You Can't Afford to Miss This $6 Company...
In November 2016, research commissioned by security company Centrify measured the stock market performance of 113 major companies that had suffered a data breach.
The study found:
The value of the 113 companies declined an average of 5% immediately following the disclosure of the breach.
The companies lost 7% of customers on average.
Of that 7% customer base loss, 31% never returned.
For investors, finding a silver lining amid such a dangerous, intangible threat can be daunting. The tenuous U.S.-Iran relationship has created an unfriendly environment for American companies, oil companies most of all, as Money Morning Global Energy Strategist Dr. Kent Moors explained earlier today.
Kent has been following developments in the energy sector for 40 years. He's an energy and policy advisor to 29 governments around the world, and he's consulted with six of the world's top ten oil companies.
To say he has a good understanding of the U.S.-Iran situation would be an understatement.
And right now, Kent says U.S. oil companies have their hands tied. "U.S. companies cannot invest more than $20 million in Iranian hydrocarbon," he said. What's more, Kent told us that "Trump will certainly re-sign" that limit when it comes time to be renewed.
And whereas before investors could profit from European companies filling the demand in America's absence, even those companies are holding off for now.
"Given the discord currently, foreign companies are holding back on projects in Iran," Kent explained. "This includes French major Total SA (NYSE ADR: TOT) and its multibillion-dollar project in LNG and natural gas. They are not walking away from the deal, just suspending future moves."
"Similarly, Indian and Russian initiatives are also moving ahead at a snail's pace."
So it's hard to know quite how to play a situation like this.
Fortunately, Kent has a solution...
Invest in America's Cybersecurity
The U.S. Department of Defense has over 15,000 computer networks and 7 million computers connected to bases around the world.
This has made cyberspace the Pentagon's "Achilles' Heel."
An Iran-based attack could be truly devastating. In fact, according to Forbes, the rise of hackers digitally breaking into major corporations and government agencies is projected to cause $2.1 trillion in damage.
But the Defense Advanced Research Projects Agency (DARPA) is about to stomp out that threat.
They've been working with a legendary hacker from the "D.C. Black Ops Unit" of a major defense contractor that also has deep ties to MIT.
Together they have developed a breakthrough new system that can withstand a national-level cyberattack... and counterstrike these clowns at "net speed."
This defense contractor has secured 380 critical cyber patents for its tech. And it won't be long before it rapidly migrates to the civilian market; this cyber defender has already acquired 21,000 civilian clients worldwide.
Now, this DARPA darling is on the verge of dominating what's expected to be a $1 trillion market over the next five years.
And along with its other top-secret DARPA-related endeavors, Kent expects that could make this rising cyber powerhouse an easy but massive gainer from here.
This small defense firm could turn every small stake invested into $8,590, if not considerably more longer term.
Kent has all the details in his comprehensive briefing, The American Victory Blueprint. Don't miss out - click here to get the full story...
Follow  Money Morning  on Facebook, Twitter, and LinkedIn.
Related Articles: