The other day, I had an interesting question thrown my way: What's the single most dangerous investing trend you're seeing out there right now? What could people be doing that's a surefire way to just go flat broke?
My answer is probably not what you would expect – after all, today and every day, I'm "Opposite Guy."
So I'm going to give you the answer you didn't expect. But it's the right answer historically.
It'll help you along your path to becoming a successful, independent, self-directed, and, above all, wealthy investor.
And the best part is, the answer is going to save you a ton of money and heartbreak…
Conventional Wisdom Only Gets You So Far
Here's something else you probably weren't expecting from Opposite Guy: You can always follow the conventional wisdom… if you want.
That, however, will only help you in a bull market, when the conventional wisdom is usually right and can stay right for a long time.
Bull markets are when cable talking heads can set themselves up as mystical profit prophets just by hawking the FANG stocks – Facebook Inc. (Nasdaq: FB), Amazon.com Inc. (Nasdaq: AMZN), Netflix Inc. (Nasdaq: NFLX) and Google/Alphabet Inc. (Nasdaq: GOOG) – to the credulous masses.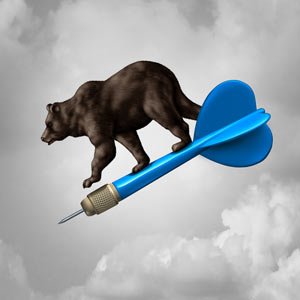 See? Bull markets are easy.
But bear markets do come along every so often, and when they do, the conventional wisdom that's made you bull market gains will lose you a lot of money – fast.
Here's where I'd bet you were expecting me, Opposite Guy, to say that buying the FANGs is the most dangerous trend.
After all, that's what all the bears have been saying – and I have a bit of an undeserved reputation as a permabear. I'm supposed to agree that buying the FANGs at these extreme valuations is insane and a surefire way to go broke.
Trouble is, I'm not a permabear. I'm a trend identifier. I use liquidity and technical analysis to signal, identify, and confirm trends, as well as indicate likely turning points. That's why my analysis has, in fact, been mostly bullish for years. You can follow my liquidity work over at Sure Money and my technical work in the Wall Street Examiner Pro Trader.
Lately, I have been warning that the forces of liquidity that establish market context and drive trends will soon turn bearish, and this week, they started to. My short-term LAMPP indicator, which you can follow at Sure Money, turned red this week.
If you're not making gains like this… you could be cheating yourself out of tens of thousands of dollars.
That's a big distinction – and an expensive one if you've been following constant doomsayers.
The biggest problem with the permabears is they've been saying that the FANGs are about to crash for years. They've been very wrong for a very long time.
What's worse, some of them have been recommending the purchase of puts or outright short sales of these stocks. Those recommendations have been disastrous. If you followed them, you would have been wiped out over and over.
But, like the proverbial busted clock that's right twice in 24 hours, the permabears will be right one day, and my liquidity analysis suggests that day is probably not far off.
So, for regular investors, the question becomes: Will these stocks crash, or should they be held through thick and thin?
Let's take a look at one stock in particular – a company chronically hated on (and often disastrously shorted) by permabears – one of the FANGs.
Join the conversation. Click here to jump to comments…
About the Author
Financial Analyst, 50-year charting expert, finance + real estate pro, and market analyst; published and edited the Wall Street Examiner since 2000.